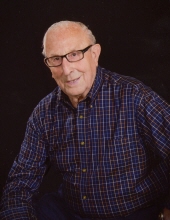 May 4, 2017 – West Bend, WI – Peter Molter, age 87, a resident of Conover/Phelps since 1985 and formerly of West Bend, passed away on Tuesday May 2, 2017 at the Aspirus Wausau Hospital. Peter was born in Jackson, WI on November 22, 1929 to Peter and Louise Molter.
He was a 1948 graduate of West Bend High School. While there he went to State for track and field.
Peter served in the US Air Force and was stationed in Japan during the Korea Conflict from 1951-1955. After serving in the Air Force he attended the Milwaukee School of Engineering.
He married Phyllis LeFever on September 13, 1958 in Random Lake, WI.
He worked as a supervisor at Amity Leather in West Bend for 37 years. He owned and operated the Twin Haven Resort in Conover for 10 years. Peter also drove school bus for Schilleman's Bus Service in Eagle River, WI and worked as a groundskeeper at Big Sand Lake Golf Course in Phelps.
Pete was an avid woodworker, hunter, fisherman, vegetable gardener, and Milwaukee Brewers Fan. He enjoyed snowmobiling, vacationing and taking cruises around the world, relaxing on his pontoon boat around North and South Twin Lakes, and spending time with his children and grandchildren of whom he was extremely proud. Peter was a member of the American Legion.
He was preceded in death by his parents; brothers: Milton, William and James; and sisters: Jewell Engeleiter and Marion Schuppel; in-laws Ralph and Leona LeFever; brother-in-laws: Dick Knorr, John Mueller, Art Engeleiter, Willard Schuppel; nephew: Bob Molter; and nieces: Jeanne Nuelk and Peggy Gray. Peter is survived by his wife: Phyllis Molter of Phelps, WI; children: Mary (Jim) Kehoe of Superior, WI, Doug Molter of Phelps, WI and Jill (Dave) Powell of Pleasant Prairie, WI; grandchildren: Nathan Kehoe, Peter Molter, Adam Kehoe, Amanda (Adam) Phillippi, Megan Powell, Matthew Molter, and Gavin Powell; great granddaughter: Lily Phillippi; former daughter-in-law: Carol Molter; brother/sister-in-laws: Patricia(Jim) Schmitz, Terry (Holly) LeFever, and Joan Knorr; and godsons: Jason Knorr and Dan Molter.
Funeral services will be held at 11 a.m. on Saturday May 13, 2017 at St. Mary's Catholic Church in Phelps, WI. Visitation will be held from 9 a.m.-11 a.m. at the church. Burial in Phelps Cemetery following the service.
Hat tip Terry Becker.