Obit: Ralph W. Rosbeck of West Bend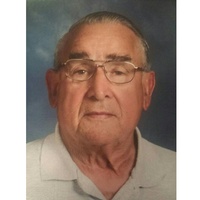 Oct. 28, 2017 – West Bend, WI – Ralph W. Rosbeck of West Bend died on Thursday, October 26, 2017 at The Kathy Hospice at the age of 88 years. He was born on November 28, 1928 in Milwaukee to the late Martin and Theresa (nee Kiefer) Rosbeck.
In the late 1930's, the family moved to a farm near St. Kilian's in Fond du Lac County.
After his marriage to Delores H. Gerlach on April 19, 1950 at Holy Angels Catholic Church, the couple settled near West Bend.
He worked at the former White House Milk Company. After the milk company closed, he held other jobs, until becoming employed with the City of West Bend. At the time of his retirement in 1990, he worked with the Department of Public Works. He continued working part-time with the Town of Barton up to the time of his death.
He and Delores traveled many times to Las Vegas. After her death on December 1, 1994, he continued visiting Las Vegas. He also enjoyed a good fish fry, breakfast with family, friends and co-workers and playing sheepshead.
Survivors include his children Norman of Campbellsport, Daniel (Colleen) of West Bend, Bonnie (James) Weston of West Bend, Thomas (Lynn) of Jackson, John (Terri) of Allenton, Curt (Lisa) of West Bend; 6 grandchildren: Ryan, Tricia Heckendorf, Jessica (Jay) Hartwig, Nicke (Brian) Wahlen, Kelsey and Nathan; 2 great-grandchildren: Jayden Swan and Bentley Norton; 1 brother Norbert (Sharon) Rosbeck of West Bend; 2 sisters-in-law Audrey Rosbeck of Hartford and Rosemary Parchim of Cedarburg; nieces, nephews, other relatives and friends.
In addition to his wife and parents, he was preceded in death by brothers and sister Margaret "Tudy" (William) Brill, Robert and Raymond.
A Mass of Christian Burial will be held on Monday, October 30 at 6 p.m at Holy Angels Catholic Church. Burial will be at 10 a.m. Tuesday in Washington County Memorial Park. The family will greet relatives and friends at the church on Monday from 3 until 5:45 p.m.
The Schmidt Funeral Home of West Bend is serving the family.