Obit: Raymond G. Voight, 93, of Mayville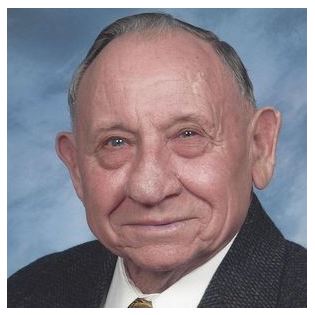 Dec. 3, 2017 – Mayville, WI – Raymond G. Voight, 93, of Mayville passed away on December 3, 2017 at Hope Senior Living in Lomira.
A funeral service will take place on Wednesday, December 6 at 1 p.m. at St. Paul Lutheran Church in Mayville with the Rev. David Koch officiating. A visitation will be held on Wednesday, December 6 at the church from 12 p.m. until the time of the service at 1 p.m.  Burial will take place at Graceland Cemetery in Mayville.
Ray was born on December 18, 1923 the son of Herman and Irma (Hoff) Voight in the town of Theresa. He was united in marriage to Eleanor Retzlaff on May 29, 1948 at Immanuel Lutheran Church in the township of Herman. Together with his wife, they farmed in the Mayville area for 35 years. He went on to retire from Mayville Coop after 14 years driving a petroleum route.
Ray was a lifelong active member of St. Paul Lutheran Church and was active in their AAL chapter. He was also an active member of the Mayville Senior Center and received the key of the City of Mayville for his many years of service to the Senior Center. In his spare time, Ray enjoyed traveling, NASCAR, sheepshead, listening to polka music, gardening, and taking pride in his yard.
Ray is survived by his children- Carolyn (Donn) Wendorff of Mayville, Ken 'Speedy' (Diane 'Deedee') Voight of Mayville. Son in law- Dave Runge of Mayville. Special friend- Fern Wagner of Mayville. His grandchildren- Troy (Becky) Wendorff, Justin (Lacey) Wendorff, Nathanial (Mandy) Runge, Adam (Jackie) Runge, Stacy (Mario) Fantauzzi, Jared (Jenny) Voight. Great grandchildren- Devin and Megan Wendorff, Luca and Sylvia Fantauzzi, Emmett and Allison Voight, Emery and Lincoln Runge, Jesse Runge, Molly Swender and Niko Jahsman. He is further survived by other relatives and friends.
He was preceded in death by his wife Eleanor in 2004, son Norman in 1968, daughter Janice in 2015 and great grandson Trevor in 2005. His brother and sister in law Milton (Goldia) Voight, sister and brother in law Eldine (Melvin) Retzlaff.
Memorials may be directed to St. Paul Lutheran Church in Mayville, Hope Senior Living, or the charity of one's choice.
Koepsell Funeral Home in Mayville is serving the family.