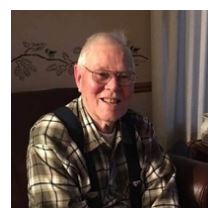 Dec. 5, 2017 – West Bend, WI – Richard A. Kern, 86, of West Bend died peacefully on Sunday, December 3, 2017 after a short stay at The Kathy Hospice. He was born November 27, 1931 in St. Kilian to Anna (nee Schmidtbauer) and Joseph Kern. On October 20, 1956 he was united in marriage to Barbara E. Coulter at St. Theresa Catholic Church in Theresa. Barbara preceded him in death on October 16, 2008.
He was raised on the family farm in St. Kilian. He served in the Korean War from 1951 until 1953. Following their marriage Barbara and Richard made their home in West Bend and it remained the family home for 60 years. Richard was a dedicated husband and father. He was very involved in the education and activities of his 7 children.
Richard worked at Schroeder Dairy, Horlamus Industries and was a long-time employee of the West Bend Company, retiring in 1995. While he was working at the West Bend Company he received many awards for his innovative ideas. Following his retirement he spent his time gardening, woodworking, rummaging, playing games with his grandkids and spending time with his family.
He was a long-time member of the Kettle Moraine Coin and Stamp Club and the Hobbies Unlimited Club. He enjoyed many social activities and made life-long friends in these clubs.
Richard is survived by his 7 children: Mary Jo (Eugene) Helnes of West Bend, Randal Kern, Donald (the late Suzanne) Kern of Hartford, William (Janice) Kern of Annandale, VA, Susan (Roger) Devenport of Kerrville, TX, Joan (Doug) Savard of West Bend and Daniel (fiancée Jennifer) Kern of Milwaukee and 13 grandchildren: Eric Helnes, Jason (Amanda) Helnes, Scott (fiancée Lyndsay) Helnes, Emily (Tyler) Liddicoat, Randal Willis, Adam Kern, Michelle (Derrick) Disterhaft, James Kern, Mitchel Kern, Sean (William) Watson, Sydney Devenport, Abraham Devenport, Anna Kern, and 7 great-grandchildren. He is further survived by his brothers-in-law and sisters-in-law: Ruth Kern, Allen (Ilse) Coulter, Ronald Coulter, Ervin Coulter Jr., Wayne (Pat) Coulter, Teresa Vorpahl, Mike (Ellen) Coulter, Bob (Ginger) Coulter; nieces, nephews, other relatives and friends.
He was preceded in death by his wife of 52 years, Barbara, his parents, an infant daughter, Sandra, 1 brother, Orville Kern, 2 sisters: Esther Berg and Gladys (Charlie) Peters and a daughter-in-law Suzanne Kern.
A Mass of Christian Burial will be held Wednesday, December 6, 2017 at 6:00 p.m. at Holy Angels Catholic Church with Rev. Jerome Repenshek presiding. Burial will be Thursday at 10:00 a.m. in Holy Angels Cemetery. The family will greet visitors on Wednesday at the church from 4:00 p.m. until 5:45 p.m.
The family would like to thank the staff at the West Bend Clinic, St. Joseph's Hospital, the Samaritan Health Center and The Kathy Hospice for their kind and compassionate care of Richard.
The Schmidt Funeral Home in West Bend is serving the family.