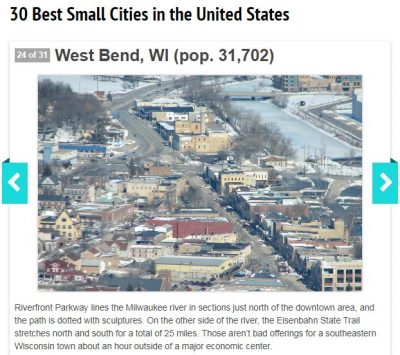 Dec. 5, 2017 – West Bend, WI – We're number 24! We're number 24! Travelalot.com has come out with a list of the top 30 best small cities in the United States and the city of West Bend is listed No. 24.
The qualifications for the ranking reads: "Big, crowded cities don't have a monopoly on cultural offerings. If you're looking to visit (or move to) a place that flows to a slower pace and has a lower cost of living, these towns under 100,000 residents still have plenty to cool things to do."
The copy reads: "Riverfront Parkway lines the Milwaukee River in sections just north of the downtown area and the path is dotted with sculptures. On the other side of the river the Eisenbahn State Trail stretches north and south for a total of 25 miles. Those aren't bad offerings for a southeastern Wisconsin town about an hour outside of a major economic center."
(Does that feel like a backhanded comment to anyone else??)
What would you tout as making West Bend one of the TOP best small cities in the U.S.?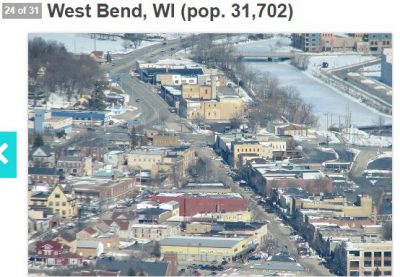 Some of the cities West Bend beat included Cedar Falls, IA, Bismarck, ND, Beverly, MA, and Bozeman, MT.
Click HERE to see the entire list.