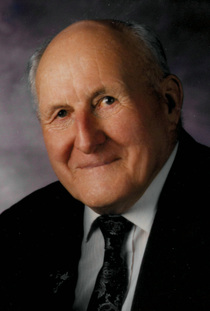 May 9, 2017 – Slinger, WI – Robert G. Nehm, age 99, passed away on Tuesday, May 9, 2017 at his residence.  He was born on March 2, 1918 in Slinger to the late Henry and Elsie (nee Schwanz) Nehm.
He graduated from Slinger High School Class of '35 and married Audrey (nee Kuhaupt) on October 23, 1948 at St. John's UCC in Slinger.
Robert was in the US Army in WWII and later was employed at Thiel's Mill in Slinger for 30 years, Risse Meat Market in Slinger for 12 years, and courier at Associated Bank in Slinger for 12 years.  He also helped in the floral and greenhouse business.  He loved to garden and loved to stay busy.  Most of all, he loved his family.
Robert is survived by his wife Audrey, children Paul (Pat), Russell (Cecilia), Judy Nehm, Richard (Sally), Carol (Peter) Anderson and William (Sue), grandchildren Kris (Al) Mc Dermott, Kari (Troy) Gunderman, Teresa (Tim) Weiser, Douglas (Lavie) Nehm, Cheryl (Marcus) Asmus, Eric Nehm, Andrew Nehm, Scott Nehm, Melissa Nehm, Curtis Nehm, great-grandchildren Kadin, Cole, Luke, Olivia, Margot and Ben.  He is further survived by his sister Laila Pickhard, nieces, nephews, other relatives and friends.  He is preceded in death by his parents, siblings Anita (Earl) Mechenich, Carl (Charleen) Nehm, Ruth (Earl) Schilling, Lenora Nehm and brother-in-law Garvin Pickhard.
A Funeral Service will be at 7:30 pm on Monday, May 15, 2017 at Faith UCC (2895 Slinger Rd., Slinger, WI 53086) with Rev. Sharon Stier presiding.  Visitation will be at the church only on Monday, May 15 from 4:30 pm until time of service (7:30 pm).  Memorials are appreciated to Faith UCC Cemetery Fund or the charity of your choice.
A Special Thank You to Judy, Elaine and Cathy for their tender care of Robert.