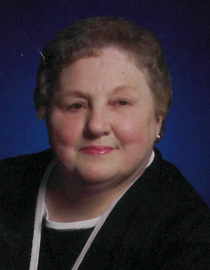 May 9, 2017 – West Bend, WI – Joan Marie Plavec (nee Fellenz), age 81, passed away on May 8, 2017 at her home in West Bend.  She was born to Anthony and Marie (nee Bernard) Fellenz on June 21, 1935 in West Bend.
She married Joseph Plavec on September 14, 1955 at Holy Angels Catholic Church.  Joan worked as a custodian for West Bend School District.  She enjoyed watching birds and loved flowers.
Above all, she loved spending time with her family, especially her grandchildren.
Joan is survived by her sons, Tony (Jamelee) and Mark (Deborah); daughter-in-law Mary; grandchildren, Jennifer and Stephanie Plavec; Mark II, Samantha, Nicole, Sabrina, Jessica and Justin Plavec; Karen (Eric) Carlson, Eric (Stacy) Beltmann; sister-in-law Johanna Fellenz.  She is further survived by other relatives and friends.
She is preceded in death by her parents; husband Joseph; sons Joseph and Robert; grandson Anthony; and brother Donald.
The Mass of Christian Burial will be held at 12:00 PM on Saturday, May 13, 2017 at St. Frances Cabrini Catholic Church (1025 S 7th Ave, West Bend, WI  53095) with Fr. Nathan Reesman presiding.
The Visitation will be held on Saturday, May 13th at the Phillip Funeral Home Chapel (1420 W Paradise Drive, West Bend) from 9:30 AM until 11:15 AM.  Interment will take place at Holy Angels Cemetery immediately following the Mass.