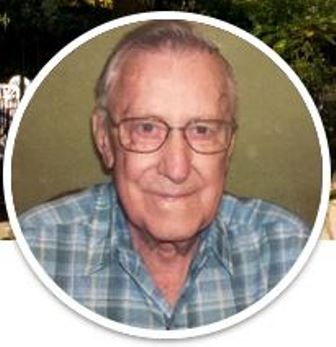 July 12, 2018 – West Bend, WI – Robert Roman Sawyer, of West Bend, passed away July 8th 2018. He was born August 12, 1936 in Eau Claire, Wisconsin to Raymond & Marcella (Spaeth) Sawyer.  He married the love of his life; Dorothy Mae Connor at St. Patrick's Church, June 3rd 1957 in Halder, Wisconsin and had just celebrated their 61st anniversary this past June.
A carpenter and craftsman by trade in his early years, Robert went on to work at Tennies hardware store in West Bend until his retirement where his knowledge and kindness was known by everyone he came across.  Robert liked to travel with his wife Dorothy, both trying to be better golfers; they loved trying new courses especially if there was a casino nearby.  In his spare time he enjoyed woodworking in his wood shop; crafting doll houses, kitchen cabinets and toys for his children and grandchildren. Robert was an avid trap shooter and baker; making special treats for his doggie friends, cookies for the casino bus rides, his friends and staff at the nursing home where he spent his last years. There was always a special treat for you if you stopped by for a visit. Robert especially liked his visits from his special doggie friends Lucy & Cooper.
He leaves behind his beloved wife Dorothy Mae, his son Duane (Melissa) Sawyer, his daughter Teresa (Jeff) Seppala, granddaughter's Melissa (Nick) Mueller, Caitlin (Ross) Miller,  grandsons, Andrew Sawyer, Eric (Alissa) Sawyer, Ben (Kristy) Fabian, Andy (Abbey) Fabian and great grandchildren Noah, Ethan, Gavin, Mackenzie,  Jema and her sister Layla arriving in August, Brothers Raymond (Rosemary) Sawyer, Tom (Claudette) Sawyer,  many nieces, nephews and  very special friends Jim & Linda Birkeland.
He was preceded in death by his parents Raymond and Marcella, a granddaughter Jessica, as well as his special doggie friends Skippy, Murphy, Barney, Sammy, and Cody.
At Robert's request there will be no visitation or funeral service, he asks that you have a cup of coffee, a piece of pie, a cookie or a donut in remembrance of him; he would enjoy that.