Obit: Agnes Schwartz, 87, Allenton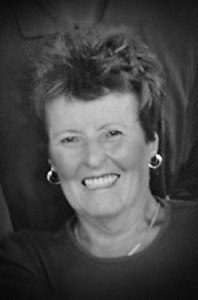 Agnes J. Schwartz (nee Van Beek) age 87 of Allenton, Wisconsin passed away unexpectedly on Thursday, January 07, 2016 at Froedtert Hospital in Wauwatosa.
She was born on April 27, 1928 in the town of Barton, WI to Hubert and Alman (nee Staehler) Van Beek. She was united in marriage to Walter E. Schwartz on September 28, 1949 in Barton, WI.
Agnes was a very hard working woman from little on. She worked at Amity Leather Co, West Bend, Wisconsin while meeting Walter and continued to work at Amity for 15 years.
Walter and Agnes started farming and a Trucking Business in 1946 and from that time on Agnes became the main dispatcher for a Livestock and Grain Trucking Co. that became very successful because of her persistence. She contracted and sold millions and millions of bushels of grain thru out the Midwest. Agnes also took care of the Whitewashing Business for many of the farmers and throughout her lifetime she must of wore out 500 phones. She was also a devoted animal lover.
Agnes is survived by her beloved husband of 66 years, Wally Schwartz; loving children, Rick Schwartz, Jacqueline (J.B.) Howard, Gary (Nancy) Schwartz, and Judy (Kurt) Goeman; cherished grandchildren, Austin, Tanner and step-grandchildren Josh (Kinsey) Birkholz and Gina (Ryan) Iseler; step-great grandchildren Grace and Gabe Birkholz; dear siblings, Rosemary Fickert; brother-in-law Kenneth Hefter; dear siblings-in-law, Carol Brinkman, Edward (Louise) Schwartz and Rosella Langenecker.
She was preceded in death by her parents; brother, Hubert Van Beek and sister Florence Hefter; and brothers-in-law, Furdie Fickert, Herbert (Lucille) Schwartz and Clem Langenecker
Funeral services for Agnes will be held on Saturday, January 16, 2016 at 12:30p.m. at St. Mary's Catholic Church (112 S German St. Mayville, WI 53050 with Father Tom Biersack officiating. Family will greet relatives and friends at the church on Saturday from 8:30 a.m .- 12:00 p.m.
Memorial contributions are greatly appreciated