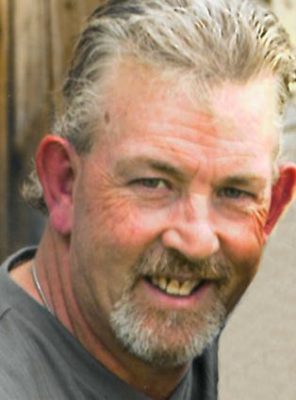 Sept. 1, 2017 – West Bend, WI – Scott "Scooter" A. Gerritson, age 55, passed away peacefully in his home with the love and care of his family on Monday, August 28, 2017.
He was born on October 10, 1961 in Killeen, TX, parents Dennis and Judy (nee Macy) Gerritson.  He married his love, Karrie (nee Kuntz) on October 9, 1987 at Our Saviors Lutheran Church.  Together they built a solid loving relationship and created a blended family of three girls and one son.
Scott over-the-years found joy in motorcycle riding with Karrie and friends, snowmobiling, bowling, family camping trips and friend gatherings.  He enjoyed woodworking – many projects – a few sanded fingers and two trips to the ER – priceless!  Nothing Scott couldn't fix with a hammer and duct tape!  This last year gardening became his passion.  Scott was a very devoted man to his family, wife, children and grandchildren and extended family.
Scott found an interest later in life, when the children were grown, to complete an apprenticeship in plumbing and started his own business RSR Plumbing – Reliable Service and Repair.  Scott endured a long battle with cancer which he handled with great dignity, strength and courage.
Scott is survived by his soulmate of 30 years, Karrie; children, Jackie (Jesse) Naumann, Becky (Travis) Rosine, Kim Gerritson, Jeffrey Verette; grandchildren, Parker and Aubree Naumann, Stella and Blake Rosine; parents Dennis and Judy Gerritson; brothers Darrell (Cindy) Gerritson, Russell (Jennifer) Gerritson and his best fur friend, Otis.  He is further survived by nieces, nephews, other relatives and friends.
Scott is preceded in death by his angel in heaven, Marlo Naumann, George R. Smith Jr, his grandmothers Margaret A. Gerritson and Margaret M. Macy, special aunt Mary Maxine Smith and aunt Rosetta Kirkman.
A Funeral Service will be at 3:00 PM on Saturday, September 2, 2017 at the Phillip Funeral Home Chapel (1420 W. Paradise Dr. West Bend, WI 53095) with Jennifer Gerritson presiding.  Visitation will be at the funeral home, Saturday, September 2, 2017 from 1:00 PM until the time of his service 3:00 PM.
A special thank you to the Kraemer Cancer Center, Dr. Burfeind, Dr. Rossi and Dr. Bovi for their caring and compassion of three years, who became our cancer family, who always went that extra mile for Scott and a special thank you to a very special nurse, Trisha.