December 5, 2022 – West Bend, WI – Alfred "Al" John Meyer passed away on December 2, 2022 in Kimberly, Wisconsin at his place of residence, Aspire Senior Living. Al was born February 1, 1923 in San Jose, CA to the late George and Anna (nee Halb) Meyer.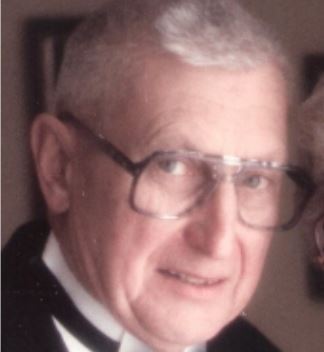 His parents moved back to Wisconsin where George was from in 1924. On June 28, 1952, he was united in marriage to Rita Ann Martiny at Holy Angels Catholic Church in West Bend.
Al is survived by two children, Kathleen A. (Gary) Now of Hortonville, Wisconsin and Richard A. (Corinne) of West Bend, Wisconsin, and four grandchildren, Stephen and David Now and Samantha (Ryan) Carroll and Krysta (Justin) Shrader and other relatives and friends.
Al attended school and spent his early years in Sheboygan County. At the age of 17, he enlisted in the Civilian Conservation Corps (C.C.C.) in northern Wisconsin where he served for two years learning numerous trade skills which benefited him in his professional life. On January 28, 1943, he entered the United States Army and was assigned to the Americal Division in the South Pacific.
Al saw combat in the Solomon Islands and the Liberation of the Philippine Islands where he earned the Combat Infantryman's Badge, the Bronze Star, and the Bronze Arrowhead. He was awarded the Presidential Unit Citation Badge for acts and service of exceptional gallantry and heroism rendered to the Philippines during World War II.
In January of 1946, Al returned to West Bend to enter the carpenter trade with Winninghoff & Bradley Construction. Al moved to Mallard Coach for a 10-year career in shop management. In 1962, Al and his wife started Meyer Trailer Sales selling and repairing recreational vehicles for 22 years before retiring in September of 1985.
Al was a member of the Fred A. Schaefer post 1393 Veteran's of Foreign Wars, the West Bend Moose Lodge and the National Association of Civilian Conservation Corps. He enjoyed golf and fishing and loved to spend time at the cottage in Woodruff, Wisconsin. If there is golf in heaven, he would love a tee time with God and to cast a line with Jesus, the original "fisher of men!"
Visitation will be held Friday, December 9, 2022 from 9:30 a.m. until 10:30 a.m. at Holy Angels Church in West Bend with a Mass of Christian Burial starting at 11 a.m. with Rev. Howard Haase presiding. Burial will follow in Holy Angels Cemetery. In lieu of flowers memorials to the Fred A. Schaefer post 1393 VFW are appreciated.
The Schmidt Funeral Home in West Bend is serving the family.