Obituary | Ann Hamlin Mueller, 89, of Slinger
April 18, 2019 – Slinger, WI – Ann Hamlin Mueller, 89, longtime resident of Slinger, WI died April 14, 2019.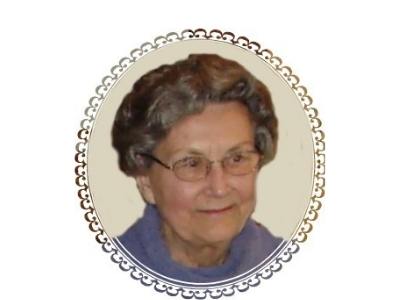 Ann Louise Hamlin was born to William and Inez Hamlin on March 11, 1930 in Wautoma, WI.  She graduated from Appleton High School and later from Layton School of Art (today MIAD) in Milwaukee.  There she met fellow artist Armin Mueller, and they married on October 18, 1952.
Through the years Armin and Ann shared their career, and appreciated many aspects of rural life- particularly the care of and riding horses.  Ann greatly enjoyed cooking and was well known for a variety of baked goods.  She never lost her taste for pie- whether made by her or someone else.
Ann was a lifelong artist, working for Hallmark in Kansas City early in her career and continuing as an independent artist until shortly before her death. She worked primarily in pastels at the beginning of her vocation, then oils, acrylics and watercolors in her later years. Ann was a member of several local art organizations including the Kettle Moraine Fine Arts Guild and Cedarburg Artists Guild. Her work was exhibited at many area galleries and shows through the decades.
Ann's artist statement best summarizes her feelings about the calling to her career.  "Art is a way of life.  It is my passion.  It sustains me.  I am constantly experimenting with watercolor, oils, acrylics, and pastel, always searching for that exciting color relationship or creative experience.  My goal is to capture the beauty of the world around me.  My ultimate pursuit is to grow as an artist and a person."
Preceding Ann in death were her parents, husband Armin, brother Bill Hamlin, and sister Elaine Flauger.  She is survived by her son Quinton (Dawn) Mueller, sister Mary Hamlin, nieces and nephews.
The family would like to thank the staff at The Gardens of Hartford for their care and support.  A private memorial will be held at a later date.
Memorials may be directed to the Kettle Moraine Fine Arts Guild or the Museum Of Wisconsin Art (MOWA).