September 24, 2022 – Anthony Henry Montag Sr. "Tony," 82, of St. Lawrence, WI passed away September 19, 2022, at his home peacefully with his family by his side after his short battle with stage IV skin cancer.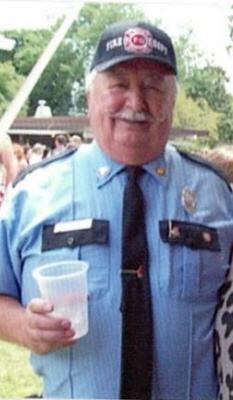 Tony was born in St. Lawrence on September 8, 1940, to Raymond and Bertha (Mueller) Montag and was the middle child of 15. He graduated from Slinger HS in 1958. After graduating he served 4 years in the United States Coast Guard.
Tony worked at Kasten Corp in Allenton, Gehl Co. in West Bend, and happily retired from Wacker Corp. in Menomonee Falls. He also drove semi for his dear friend "Skeebo" at D&S Express and worked for Ralphs' Towing and Ralph William's Service in Ackerville, WI.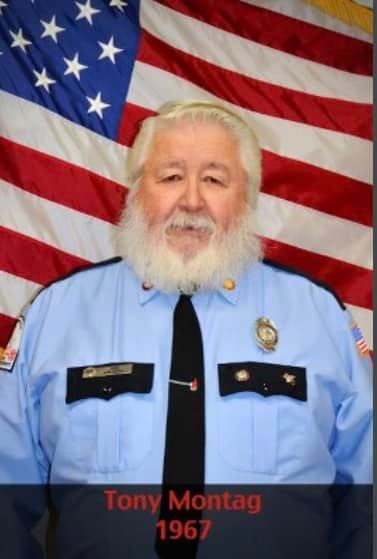 In 2001, Tony married his lifelong friend Emmy Mann (Krahn). Their wonderful time together was cut short afterward due to her untimely death in 2009. Tony was a beloved husband, father, brother, grandfather, and uncle to many. He greatly enjoyed rabbit and deer hunting along with fishing with family and friends. From the gang at "Guerndt's" and "The Faber Shack" to "Uncle Tom's Cabin" and beyond. So much so that he even rabbit hunted on the day of the Ice Bowl.
One of his greatest passions was being on the
St. Lawrence Fire Department (SLFD)
which he joined in 1967. From 1974-1983 he held the position of Fire Chief. He was also proud to be one of the original first responders alongside his beloved niece, Rosie. For many years Tony was president of the elected fire department board.
Tony was a two-time president of the Badger Firemen's Association, a member of the Washington County and Wisconsin State Fire Chief's Associations and could often be seen with his signature handlebar mustache and heard with his wonderful laugh at many area firemen's picnics. At these picnics, Tony, as nozzle man, helped his team bring many water-fighting trophies back to the SLFD. In 2019 he was voted Firefighter of the Year by the St. Lawrence Fire Company. For those of you keeping track at home, this all adds up to 55 years of active member service! Most consecutive years of active member service in the history of the department.
"Uncle Tony" was also a proud member of the American Legion for 43 years. He was involved with many of the veteran functions and events. He was a past Commander for Fohl-Martin Post 483 in Allenton for 11 years as well as a past Washington County Commander for four years. Every year he was involved with the Legion hamburger stand at the Washington County Fair and placing flags and wreaths on the gravesites of veterans. He attended many Honor Guard functions and especially enjoyed working on the county's cabin at Camp American Legion in Lake Tomahawk so it would be ready for use by any veteran and their family in need. Tony was voted Washington County American Legion Firefighter of the year in 2021.
Though Tony was on the Washington County Civil War Monument Committee, he, unfortunately, was not able to see the fruits of his labor from his most recent project involving Civil War Memorials, but he does know it was completed and he would be very proud of the final result.
Tony is survived by his children, Stephanie (Darren) Grauden of Mosinee, Tony Jr. (Cheri) Montag of Little Chute, Mitch (Kayla) Peters, of Rubicon, Daniel Mann of Oshkosh, and Tanya (Ryan) Soerens of West Bend; grandchildren, Amber (Aaron) Lamb, Jalen Hubbert, Lucas, and Kaitlyn Montag, Jayla and Jaleah Ramstack; siblings, Marion Sage, Margaret LesMonde, Thomas, Raymond (Kathy), Frederick "Fritz" (Mary), Lucy Campbell, William "Spider" (Cindy), Joanie Richardson, Christine (Jon) Zommers and Suzy (Dan) Knutson. Tony is further survived by many nieces, nephews, and other family members. Want us to name them?!
Tony was preceded in death by his parents, his sisters Pat, Rita, and Kathy his brother Hubie, and his wife Emmy.
Visitation for Tony will take place on Saturday, September 24, 2022, at St. Lawrence Catholic Church, 4886 Hwy 175, St. Lawrence, from 9:30 a.m. – 1 p.m. At 1 p.m. the Fire Departments and the American Legion will do their walk-through and special ceremony.
Mass will be at 1:30 p.m. with military honors to follow. A private interment will be at a later date.
The family invites you to a celebration of life for Tony at the Fire House in St. Lawrence after the military honors to carry out his final wish of "have one hell of a party"!
The family would like to thank Linda and the rest of Allay Hospice for the great care provided in Tony's final days. Also special thanks to the following for lending a hand; Lucy, Dennis, Caleb, Michelle, and many other family and friends who assisted the family during this time.
In lieu of flowers, Tony would greatly appreciate donations to Camp American Legion in his name. Camp American Legion – Lake Tomahawk.