Obituary | Arlene M. Goecks, 96, of Neosho
May 28, 2019 – Neosho, WI – Arlene Mathilda Lily Margelofsky Goecks, 96, found peace on Saturday, May 25, 2019.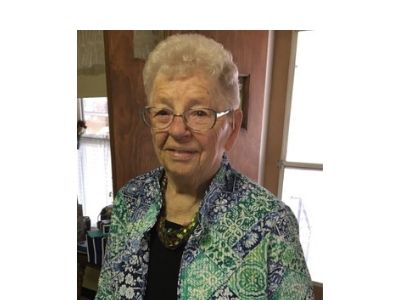 She was born April 8, 1923 to Harvey and Adela (Otto) Margelofsky. Arlene was baptized on April 22, 1923 and confirmed on July 12, 1936 at St. Paul's Ev. Lutheran Church in Neosho. She was united in marriage on April 30, 1944 to Elmer Goecks.
Arlene enjoyed reading, doing puzzles, watching birds and spending time at the cabin. Most of all she enjoyed being with her grandchildren and great-grandchildren. She retired from Gleason Reel, Mayville in 1985. Arlene was president of the Ladies Aid for 19 years at St. Paul's Ev. Lutheran Church and a life-long member.
Arlene is survived by three children, Karen (David) Frank of Sun Prairie, Barbara Heller of Carrollton, TX and Allen (Dawn) Goecks of Hartford; two grandchildren, Andy (Mallory) Goecks, Richfield and Aaron (Molly) Goecks, McFarland; three great-grandchildren, Nolan, Evelyn and Henry; one sister, Delores Schmidt, Arbor Vitae, WI; one brother, Sylvester Margelofsky, Neosho; also survived by nieces, nephews, other relatives, friends and great-grand dog, Winston. Arlene is preceded in death by her husband, Elmer; brother, Willard Margelofsky and son-in-law, Dennis Heller.
Funeral Services for Arlene will be held at St. Paul's Ev. Lutheran Church, 132 E. School St., Neosho on Thursday, May 30 at 12 p.m. with Rev. Joshua Kesting presiding. Visitation from 10 a.m. until time of service. Committal to follow the service at Woodlawn Cemetery. Memorials are appreciated to the building fund at St. Paul's or the Gardens of Hartford.