Ribbon cutting for basketball/pickleball/volleyball courts | Photo by Barry Baum
May 28, 2019 – West Bend, WI – Bango, the mascot from the Milwaukee Bucks, was in West Bend on Tuesday, May 28 to help dedicate the new basketball/pickleball/volleyball courts at Regner Park.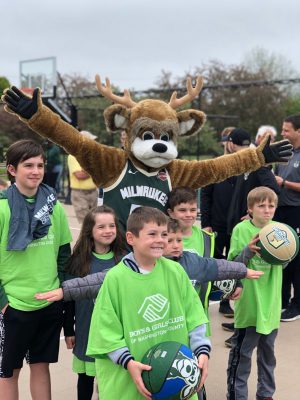 The new Milwaukee Bucks West Bend Court Project is complete. The complex is part of the upgrade at Regner Park, 800 N. Main Street.
Click HERE for details on the organization that financed the project.
The sport court is made of a grid of super-strong material for year-round play. The hoops have a glass backboard and the height can be adjusted.
There is also a pulley and crank system to raise or lower nets for volleyball or pickleball.
After the event Bango took part in the end of the Law Enforcement Torch Run for Special Olympics.