October 30, 2020 – West Bend, WI – August C. "Auggie" Krueger, 86, of West Bend was called to be with the Lord on October 28, 2020 at home surrounded by his loving family.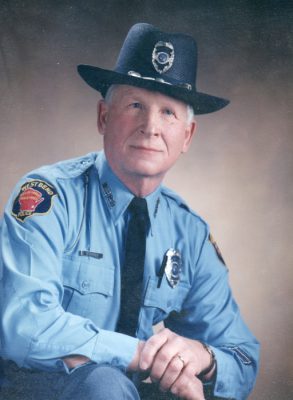 Auggie was born on September 21, 1934 in Hartford to Henry and Erma (Walrabenstein) Krueger.  He was united in marriage with Mary Foy on October 24, 1959 at St. Mary's Church in West Bend. They celebrated their 60th anniversary with a family dinner last year.
Auggie graduated from Hartford High School in 1952.  He joined the United States Air Force in 1954, where he was stationed in Goose Bay, Labrador and the Baffin Islands.  Auggie was honorably discharged in 1957.  Auggie worked at Mercury Marine for 10 years prior to joining the West Bend Police Department where he served as a police officer until his retirement in 1993. Auggie always said the best part of being a police officer was helping and meeting so many people in the line of duty.
Auggie was an avid hunter and fisherman, and enjoyed gardening, camping, staying Up North in his cabin and looking for wild asparagus, blackberries, and picking strawberries.  He was a Green Bay Packers fan, especially Brett Favre.  Auggie appreciated the gospel music on the Gaithers Show.
Auggie leaves many who will cherish his memory, including his devoted wife of 61 years, Mary; five children, Constance "Connie" (Randy) Schreiner, Ken (Jackie) Krueger, Jeff Krueger, Vicki Krueger, and Jill (Christine Pulver) Krueger; five grandchildren, Nicole (Jeremy) Cooper, Matt (Alissa) Krueger, Michelle (TJ) Stratil, Suzanne Schreiner, and Everett Krueger-Pulver; five great-grandchildren, Jace, Emma, and Logan Krueger, and Adalee and Anthony Stratil; two sisters Phyllis Kempfer, and Donna Lee Kornowski; and sisters-in-law, Flo (Hugh) Blanding and Frieda Foy. He is further survived by nieces, nephews, other relatives and friends.
In addition to his parents and parents-in-law, Auggie was preceded in death by two sisters, Jeanette Zimmerman and Delores Hauman; and several brothers-in-law and sisters-in-law.
In order to protect health and safety, and comply with current restrictions, a private memorial service will be held with  Auggie's family at Immanuel United Church of Christ in West Bend on November 1, All Saints Day.
The service will be recorded, and the video will be posted at www.myrhum-patten.com (usually within 48 hours after the service).
In lieu of flowers, for those who would like to make a charitable contribution in Auggie's memory, the family suggests donations to Immanuel United Church of Christ, or a memorial to be chosen by the family at a later date.
Auggie's family extends their heartfelt appreciation to the staff at Horizon Home Hospice and ComforCare for the loving care they provided, and to dear neighbors who helped make it possible for Auggie and Mary to remain in their home with a steady round of yardwork, and countless other acts of kindness.