August 30, 2019 – West Bend, WI – Charles Harold Johnson, 89, passed away peacefully at home on August 29, 2019. He was born on February 3, 1930 to Aaron and Edna (Schacht) Johnson. Charles married Rose Ann Isselman on May 8, 1954 at Holy Trinity Catholic Church in Newburg.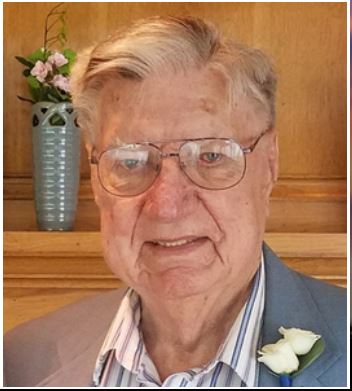 Chuck was born and raised in West Bend, WI, graduating from West Bend High School in the class of '48. He served honorably in the US Army as a mechanic in Korea from 1950-52. On his return he took over the reins of the family business, Johnson School Bus Service, greatly expanding its area of service in southeast Wisconsin. With his mechanical ability, he spent his spare time tinkering with engines, drag lines, loaders and crushers at another family business, West Bend Sand & Stone. He and Rose founded West Bend Builder's Supply in 1962 to deliver the sand and aggregate to the pit customers. His daily visits and perpetual oversight of the pit continued right up until the day he died.
Chuck was past President of the Wisconsin School Bus Association and was on the Board of Directors of M&I Bank, as well as a founding member of the Orchard Street Gang. He always enjoyed a good game of dominoes with Rose, basically winning or losing the same $5 bet daily. Other favorite pastimes from back in the day included the GEMS Snowmobile Club and TNT. He was proud of his large brood of kids and grandkids. He loved all Wisconsin sports, especially the Packers, expounding to all within earshot that there was to be no talking during the game. He loved feeding and watching his furry friends – all named Ralph – whether home in West Bend, relaxing at the Shawano cottage or wintering at the Ft Myers Beach house.
He is survived by his wife Rose, having just celebrated 65 years of wedding bliss in May, and children Rita (Chuck) Kandel, Steve (Terry), Cathy Spies, Dan (Shelly), Judy (Bob) Holzmann, Paul (Barb), Nancy (Ted) Sanders and David (Kris). Survived by 22 grandchildren and 14 great-grandchildren; sisters Audrey Hamann and Dianne Johnson; brother-in-law John (JoAnn) Isselman; sisters-in-law Marge Grotelueschen and L. Polly Schmidt. He is further survived by many nieces, nephews and other relatives.
He is preceded in death by his sister Verna Schmid and other family members, and all his old friends. He's finally able to again sit in on the morning coffee call with Jim Kieckhafer, Marv Husar and Joe Ecker.
A Funeral Service will be at 11 am on Wednesday, September 4, 2019 at the Phillip Funeral Home Chapel of West Bend. Visitation will be at the funeral home on Wednesday, September 4 from 9:30 am until 10:45 am. Private interment will be at Washington County Memorial Park.
In lieu of flowers, memorials would be welcomed to the United Way of Washington County (215 N Main St, West Bend, WI 53095) or West Bend Friends of Parks and Recreation (1115 S. Main Street, West Bend, WI 53095).