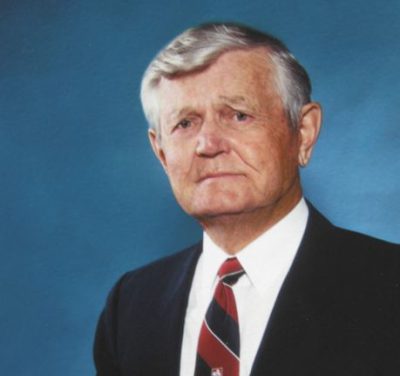 Bill was born in 1925 in Ortonville, Minnesota and moved to Waukesha, Wisconsin as a boy.  Growing up just miles from the local airport, Bill earned his pilot's license before he had a driver's license.  After graduating from Waukesha HS, he joined the Army Air Force during WWII as a pilot.
After his discharge, Bill attended Iowa State University on the GI Bill and earned his B.S. in mechanical engineering in just 3 years.  He married his high school sweetheart, Olive LaValley, in 1947.  After a short stint in Chicago, Bill and Olive returned to Waukesha where Bill worked for Mueller Climatrol in Milwaukee until 1970 when he went to work for Regal Ware in Kewaskum until his retirement.
Blessed with good health, Bill lived a full life never spending a single night in a hospital. He enjoyed hunting, fishing, sports and people, but his greatest joy was his life with Olive.  Their favorite activity was golfing together, first at Merrill Hills Golf Club and then West Bend Country Club.  Together they traveled Europe, Asia, South America, the Caribbean and extensively throughout the United States. Bill missed his wife immensely after her death in 2004.
Bill was a loving patriarch who worked hard to ensure his family a happy life.  He is survived by his 3 children: Susan (Dan Alger), David (Debbie) and Ken (Jazmin); 7 grandchildren: Sarah, Joseph, Kathryn, Bill, Melissa, Elizabeth and Juan; and 7 great-grandchildren: Olive, Petra, Evelyn, Henry, Cora, Leo and Adalynn.
A private family memorial is planned for a future date.