December 6, 2022 – Donald J. Bell, 91, passed away peacefully at Froedtert West Bend Hospital on December 3, 2022, surrounded by his loving wife and family.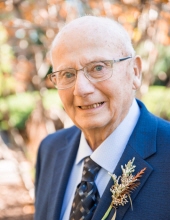 Don was born and raised on the family farm in Saukville on August 30, 1931, to Fred and Clara (nee Van De Boom) Bell. He graduated from Port Washington High School in 1949. Don proudly served in the United States Army from 1952 to 1954 during the Korean War. He married his beloved wife Eileen (nee Fehring) on November 11, 1953, at Holy Angels Church, West Bend.
Don was a faith-filled and devoted family man who enjoyed spending time with loved ones.
Together he and Eileen raised seven children. He is survived by Eileen, his adoring wife of 69 years. He is further survived by cherished family members: grandchild Kurt (Sarah) Schellinger (son of Marjorie Schellinger); daughter Janet (Thomas) Waldhart, grandchildren Claire (Dan) Leischer, Emmy (Andy Lutz) Waldhart, David (Marisol Brost Goines) Waldhart, Rachel (Jeff) Jones; son Gordon (Rhonda) Bell, grandchildren Spencer (Katie) Bell, Leah Bell; daughter Ann (Joe Sikorski) Bell, grandchild Sesha Bell; son Alan (Sharon) Bell, grandchildren Patrick Bell, Nicholas (Katie) Bell, Christopher (Nicole) Bell, Perry (Cherise Hutter) Bell; son Brian (Natalie) Bell, grandchild Elizabeth (Josh Klink) Bell.
Don is further survived by his great grandchildren: Abigail, Sophia, Aiden, Gia, Addison, Maclin, Elling, Dominic, Gemma, Philomena, Cordelia, Theodore, Madeline, Xander; brothers Gerald (Marcella) Bell, and Glenn (Kathi) Bell; son-in-law Charles Schellinger; and many dear nieces, nephews, other relatives and friends.
He is preceded in death by his dear daughter Marjorie Schellinger and dear son Richard Bell; his parents Fred and Clara; his parents-in-law Arthur and Anna Fehring; his sisters Elvera (Norbert) Berend, Eileen (Harry) Brabender, and Gladys (Foster) Braby; his in-laws Lorraine (Elmer) Thill, Ann Thill, Arthur Jr. (Virginia) Fehring, Norman (Leora) Fehring, Oscar (Grace) Fehring.
Don worked various jobs, including 10 years as the Superintendent at Wissota Sand and Gravel prior to starting his own business. In 1968, he and Eileen started Cedar Lake Sales at the family homestead in the barn. Don realized the business would soon outgrow the barn, so Cedar Lake Sales moved to its current location in West Bend on June 13, 1969.
When talking about starting the business, he always said that he jumped from the frying pan into the fire, but Don said he knew it would be a success when his dad, Fred, purchased the first Simplicity lawn tractor.
Despite the many hours and hard work to get the business off the ground, it wasn't all work and no play, especially when you sell snowmobiles and boats! Fond memories include trips to Post Lake for snowmobiling and fishing, and boating on Little Cedar Lake. Cedar Lake Sales grew and thrived under his leadership, and his sons, Alan and Brian, continue Don's successful legacy today.
He loved people and was an excellent salesperson. Don was a man who didn't know what a stranger was because they were instantly his friend. He was also a consummate storyteller, a master of joke telling.
As an outdoor enthusiast, Don enjoyed hunting, fishing, gardening, mushroom-growing, wine making (having his own private label), and showing off his creative talents (ahem) as a self-taught architect, engineer, carpenter, mechanic and electrician. He was always ready and willing to lend a helping hand to anyone in need of his talents, especially his children. What a treat it was to sit at his table for a card game, laughing as he was winning your nickels at sheepshead or skunking you in cribbage. It was heartwarming to witness Don and Eileen's love for each other as they danced together. The waltz and polka were two of their favorites, and it truly was a joy to watch them gracefully glide across the dance floor. Don and Eileen had fond memories of their travels to Acapulco, Mexico City, West Yellowstone and Hawaii.
One of his prized accomplishments was co-founding Rabbits Unlimited Ltd., a non-profit organization dedicated to raising funds for the National Multiple Sclerosis Society for MS research and support. During the past 21 years, more than $750,000 has been raised to fight MS, the disease that affected his son and daughter.
A Mass of Christian burial will be held on Monday, December 12 at 3:30 p.m. at St. Frances Cabrini 1025 S. 7th Ave. West Bend, WI. The visitation is from noon to 3 p.m. at the church. A private burial will be held on Tuesday, December 13.
A special thank you to Dr. Gary Herdrich for his excellent care and friendship over many years; to all the compassionate and dedicated ICU staff members at Froedtert Hospital, including Jared, Kandace, Mary, Gwen, Shannon, Sandy, Hana, Dr. Olafsson, Dr. Taha, Dr. Jordan, Maggie RPh; and to Horizon Hospice nurses Kim and Rachel.
In lieu of flowers, the family requests that memorial donations be made to St. Frances Cabrini or Rabbits Unlimited Ltd., P.O. Box 80184 Saukville, WI 53080 (proceeds will go to the National Multiple Sclerosis Society).
Click HERE to read a tribute article to Don Bell
The Schmidt Funeral Home in West Bend is serving the family. If you would like to leave a message of comfort and condolence, please visit schmidtfuneralhome.com