Obituary: Edward H. Wolf, 76, of Slinger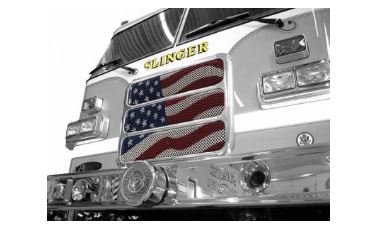 Oct. 25, 2018 – Slinger, WI – Slinger Honorary Fire Fighter Ed Wolf passed away early Wednesday morning, Oct. 24. Slinger Fire Department will be performing a bell ringing ceremony and walk through at 2 p.m. on Sunday, Oct 28.
Members of Badger Firefighters association are welcome to attend. We will be meeting at Peace Lutheran Church in Hartford at 1:40 PM to line up. Please direct any questions to Slinger Assistant Chief Brad Schaefer at 262-644-8418
Ed was a very involved member of the Slinger Fire Department as was his father and now his son, Craig and Grandson. Ed was the owner of E.H. Wolf & Sons, petroleum supplier to eastern Wisconsin and Upper Michigan.
Ronald J. Naab
President
Badger Firefighters Association
Edward H. Wolf, age 76, of Slinger, went home to his Lord and Savior on Wednesday, October 24, 2018. He was born in Hartford to parents Roy and Laura (Trott) Wolf. Edward was a 1960 graduate of Slinger High School. He was united in marriage for 56 years to the love of his life, Minette Sprehn.
Edward was baptized and confirmed in his faith at St Paul's Slinger. He loved his Lord and served him faithfully. His faith was nourished through his regular worship and Bible class attendance at Peace Lutheran where he and his family became members in 1977. His faithfulness to his Lord will always be an example for his children and grandchildren. His dedication to his Lord also included serving as Chairman at Kettle Moraine Lutheran High School, Chairman at Peace Lutheran Church and serving on the board of directors for Wisconsin Lutheran Child and Family Service, Luther Haven Assisted Living and Northwestern Publishing House.
He coached boys little league baseball and girls' softball in the Slinger Youth Program. As his parents before him, his community involvement also included many years as a 4-H Leader. Edward was also a board member of the Village of Slinger Planning Commission.
Following in his father's footsteps he served as a volunteer on the Slinger Fire Department for 45 years. An important tradition he passed on to the next generations of the Wolf family.
Edward was owner and president of Edward H. Wolf & Sons, Inc. for 35 years, a petroleum business that was started in Slinger by his parents in 1941. Edward and Minette worked many hours in the business. The success of EH Wolf & Sons was due to their dedication and mutual support they had for each other. Ed was passionate about the petroleum industry and also served as Chairman of the Wisconsin Petroleum Marketers and Convenience Stores Association.
Ed Wolf's dream of saving and preserving the Slinger railroad depot, built in 1911, became a reality when he purchased and restored it, along with the help of his family in the mid 1980's. The depot was the corporate office of EH Wolf & Sons for over 30 years. Ed had many memories from his childhood of playing at the depot and picking up newspapers for his paper route from the passing trains. His vision to save the depot from destruction preserved an important piece of Slinger's history.
Edward is survived by his loving wife Minette; four children, Linnette (Jeff) Herther, Edward (Michelle) Wolf Jr., Craig (Rachel) Wolf and Colette (Robert) Troeller; nine beloved grandchildren, Tyler (Samantha) Herther, Brennen (Amanda) Herther; Miranda (Andrew) Heim, Edward Wolf IV, Katelyn Wolf; Lauren (Richard) Leunig, Ethan (Chelsey) Wolf; Holly (Robert) Lemmer, Brady (fiancé Sydney) Troeller; eight cherished great-grandchildren; four sisters, Marilyn (Richard) Mayer, Carolyn (Niles) Wendorf, Evelyn (Larry) Lepien and Laurelyn (Michael) Lepien; sister-in-law, Dori (Ronald) Nelson; also survived by many nieces, nephews, other relatives and friends. Edward is preceded in death by his parents; infant brother, Kermit; parents-in-law, Stanley and Doris Sprehn.
We lost a man amazing in every aspect of his life, husband, father, son, brother, grandfather, great grandfather, godfather, uncle, business owner, community supporter, and most importantly as our Savior's faithful servant. His spirit and love live on in everyone he touched.
Funeral Services for Edward will be held at Peace Lutheran Church, 1001 Center St., Hartford on Sunday, October 28 at 3:30 PM with Rev. Aaron Steinbrenner officiating. Visitation for friends and family from 12:30 PM until time of service. The Slinger Fire Department will be honoring Ed's years of service at 2:00 PM. Private committal at Union Cemetery, Slinger. In lieu of flowers, memorials are appreciated to Slinger Honours Inc., Kettle Moraine Lutheran High School or Peace Lutheran Church.