November 30, 2019 – Kewaskum, WI –Elizabeth Ann (nee Mueller) Theusch, 100, of Kewaskum, was welcomed to her heavenly home on Tuesday, November 26, 2019 at Froedtert St. Joseph Hospital, West Bend. She was born on March 13, 1919, at home, in the Town of Ashford, Fond du Lac County. She was the first child of the late Joseph J. and Rose C. (nee Staehler) Mueller, Sr. On August 10, 1963, Elizabeth married Edward Theusch of Kewaskum, at St. Matthew Catholic Church in Campbellsport, WI.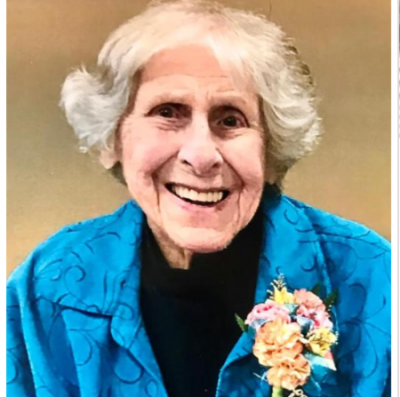 Elizabeth is survived by her step-children, Grace (nee Theusch) Batzler of Random Lake and Ralph Theusch of West Bend; grandsons Tom (Sharon) Batzler of Theresa and Roger Batzler of Wayne Township; brothers, Leo C. Mueller and Harold E. (Kathryn) Mueller of Kewaskum; sister, Rose E. Guell of Eden; brother-in-law Harry Batzler of Lomira; sisters-in-law, Patricia M. Mueller of Kewaskum and Beatrice Mueller of Campbellsport; and twenty-two nieces and nephews, their families, and other relatives and friends.
In addition to her parents, Elizabeth was preceded in death by her husband, Edward, on July 24, 1998. Also preceding Elizabeth in death son-in-law, Gerald Batzler; siblings, Joseph J. Mueller, Jr., Olive Batzler, Rita Spoerl, Lloyd R. Mueller; brothers-in-law and sisters-in-law: Gordon "Bob" Guell, John Spoerl, Arlene Mueller, Walter (Regina "Jinny") Theusch, Helen (Bernard) Volm, Clara (Alvin) Weisner, and Marian Rettler, and great-nieces and nephews.
Elizabeth's family extends special thank yous to those who offered loving, supportive care throughout the past, and more recent months. We are especially grateful to Jan Newell, Julie McBrier of Comfort Keepers, the Washington County Meals on Wheels volunteers, and Dr. Blommel and his staff for all of their continued care and compassion.
Elizabeth attended Hillside Public School, a one-room schoolhouse near her home, and later, St. Kilian Catholic School. During her early teens and early adulthood, she worked for Dr. Meiklejohn, of Fond du Lac, and his family. Elizabeth spent the week helping with their homemaking, household and cooking needs, then return weekly to help in her family home. She readily shared her memories of being transported back and forth by her father and brothers in one of their first cars during the 1930's. Later, until the time of her marriage, she worked as a switchboard operator for The General Telephone Company in Kewaskum, and for the West Bend Company in West Bend while continuing to care for her parents in the family home.
Elizabeth's family and friends are grateful for her life of 100 years, serving as a role-model of devotion to the Catholic faith, and loving care and compassion toward others. She is remembered for her strength, humility, kindness, generosity, and love of all God's creatures.
Mass of Christian Burial for Elizabeth will be held at 11 a.m. on Saturday, December 7, 2019 at St. Michael Catholic Church, 8881 Forest View Rd. – Kewaskum, WI 53040, with Rev. Jacob Strand officiating. Burial at Holy Trinity Catholic Cemetery to follow.
Elizabeth's family will greet relatives and friends at Church on Saturday from 9 a.m. until the time of Mass.
The Myrhum Patten Miller & Kietzer Funeral Home of Kewaskum has been entrusted with Elizabeth's arrangements.