May 7, 2021 – Allenton, WI – Elizabeth "Betty" J. Rohde, our beautiful and courageous Mom passed peacefully from this world into the next at home surrounded by her family on April 26, 2021. Mom was born in Louisville, KY on June 27, 1939 to Leo A. Heim and Alberta C. Heim (nee Edlin). She grew up in a modest home with two younger brothers and attended Catholic schools, graduating from high school in 1958 from Ursuline Academy in Louisville.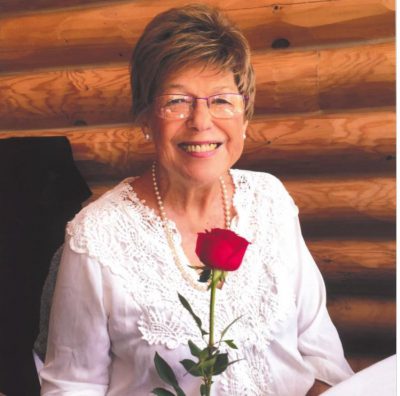 As Dad has often told the story, at age 14 he was skinning a rabbit when the Heim family came to visit the Rohde family. One look at Mom and he knew she was the one. They married on September 10, 1960 at Holy Name Catholic Church in Louisville.
Though Mom's heart always remained in Louisville, she left her Kentucky home with Dad and together they began their new life in West Bend, WI. A few years later they bought their first home in Allenton, WI where they raised their family. In 1984 they moved to their longtime weekend home, "The Farm" in Neshkoro, WI.
Mom treasured family above all else and was always the biggest supporter of her husband and children, sacrificing her own time for others. She was devoted to Dad and taught us fidelity and unconditional love.
She was a loving mom to three, an affectionate grandma to seven and adored her great-grandchildren. Mom always made time for us, attending our band concerts and sporting events. She was there for all our milestones and was the glue that held the family together.
She volunteered at school when we were kids, learned to downhill ski, enjoyed boating on Big Green Lake, and always prepared homemade meals. Dad loves her Prison Soup. She played Sheepshead with family at Thanksgiving. She enjoyed watching the Badgers and Packers football games and, of course, Derby Day.
She always made the Holidays a festive and happy time and had a penchant for trying new recipes on everyone, sometimes to the chagrin of couple sons-in-law. Mom loved to take walks on the prairie, identifying wildflowers and birds.
She enjoyed hayrides and bonfires and together Mom and Dad always invited family and friends to share in the beauty of nature at The Farm.
The Sweet Fern, Liatris and Butterfly Weed were among her favorites and the change of seasons, especially fall colors, captivated her. She and dad took evening rides on the EZ-Go around The Farm. This past September Mom and Dad celebrated their 60th Wedding Anniversary with family.
Mom worked various jobs outside the home through the years but she also worked alongside Dad to keep the books for Rohde's Nursery for more than 55 years. She was active in TOPS and proudly became a KOPS in 2018.
She was a leader through the years in the Washington County Homemakers and later HCE, where she entered some photography and her Swedish Weaving Afghans into competition, winning ribbons for her handwork. She made many friends in her outside activities. People were always drawn to Mom's positive and sunny outlook on life.
Her positive spirit and light never faltered even in her final years and days when her health began to fail. She belonged to St. James Catholic Church in Neshkoro and her lifelong faith helped to form the beautiful woman she truly was. She will be missed by all who knew and loved her dearly.
Those left to treasure her memory include her loving husband, Lenn N. Rohde. Daughters Denise (Warren) Rate and Teri (Tom) Vogt, and son, Dane Rohde. Grandchildren, Nicole (Ray) Crego, Kyle (Nicole) Rate, Cheyenne Vogt, Cameron (Holly) Rate, Brandon (Ka Cee) Rohde, Shawn (special friend Haley Kellogg) Rohde. Great-grandchildren Lucas, Lucy, Claire, Austin, Simon, Theodore, Brooke, Jennifer, Emma and Bree. Her brother, Larry (Sue Ann) Heim, Sister-in-law Phyllis Heim. Brother-in-law Michael (Carol) Rohde, sister-in-law Johanna Rohde. Other nieces, nephews, extended family and friends.
Betty was preceded in death by her parents Leo & Alberta Heim, father- and mother-in-law Norman and Florence Rohde, brother Ronald Heim, grandson Justin C. Rohde, and great-granddaughter, McKenzie Peterson.
Funeral services will be held on Friday, May 7, 2021 at St. James Catholic Church, Hwy 73, Neshkoro, WI. Visitation will be from 9 a.m. – 11 a.m. with a Mass of Christian Burial at 11 a.m. Interment will follow in the St. James Catholic Cemetery.
Family and friends are welcome to gather at the home of Denise and Warren in Theresa after burial.
The family would like to thank the caregivers at Heartland Hospice for their compassionate care so that Mom could spend her last days at home.
To send flowers or a memorial gift to the family of Elizabeth "Betty" Rohde please visit our Sympathy Store.