March 2, 2020 – West Bend, WI – Frances Stoffel "Fran" (nee Koenings), 67, passed away peacefully on Tuesday, February 25, 2020. She was born on December 17, 1952 in West Bend, to Anthony and Mathilda (nee Bahr) and graduated from West Bend West, Class of 1971.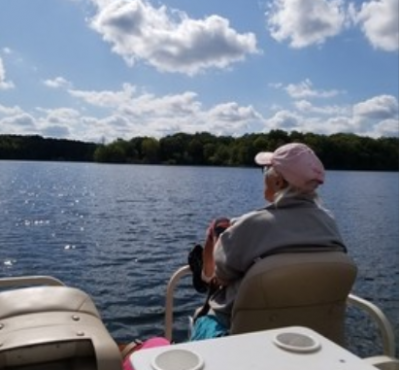 She married Wayne on August 14, 1971 at Holy Angels Catholic Church. Fran was employed at the West Bend Company and then later at Moraine Park Technical College. She also enjoyed traveling to the lake with her husband and above all, spending time with her family, especially her grandchildren.
She was known to her family as "Nana" and gave all her love and attention to her grandchildren. Loving each one for how special and unique they all are.
Nana's favorite pastimes at the lake with "Papa" were enjoying the quiet times by listening to the birds, feeding the fish and turtles, and always taking the long way home. Her passion was for her dogs; Duke and Bella, her cat; Mr. Suzie, and other small creatures of this earth. She will be missed dearly by her family and friends and anyone who called her "Nana." She was a member of Holy Angels of West Bend.
She is survived by her loving spouse: Wayne; cherished children: Stacy (Roger) Bracken, Shelly (Adam) Hertel, JR (Shauna), Jenny (Jamie) Butschlick; adored grandchildren, Mya and Kaylee Spaar, Emma and Laila Hertel, Liam Stoffel, and Aria Stoffel; older sibling: Tom (Patsy) Koenings. She is further survived by many loving nieces, nephews, other relatives and many dear friends.
Fran is preceded in death by her parents; a sister and brother-in-law Mary Ann (Dick) Loos, and a nephew; JR Loos.
The Mass of Christian Burial will be held on Friday, March 6, at 12 p.m. at Holy Angels Catholic Church, 138 N. 8th Ave, West Bend, with Rev. Howard Haase presiding. The visitation will be held at the church on Friday, March 6 from 10 a.m. until 11:45 a.m. Interment at New St. Mary's Cemetery.
In lieu of flowers, memorial donations may be made to Washington Co. Humane Society (3650 WI-60 Trunk, Slinger, WI 53086).
The Phillip Funeral Home of West Bend is assisting the family.