West Bend, WI – Gwendolyn "Gwen" Ann Hovorka, 23, of West Bend, unexpectedly passed away on September 24, 2023. There are some who bring a light so great to the world that even after they have gone the light remains.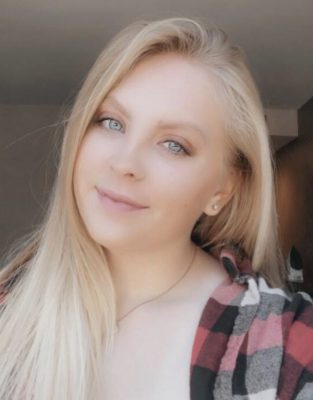 She was born in Racine, Wisconsin on December 17, 1999. From the moment she started walking and talking, our Gwenie was a social butterfly, often referred to as the family golden retriever. She delighted everyone around her with her beautiful smile, enchanting blue eyes, sweet spirit, amazing hugs, and her never-ending goofiness.
The moment she was born, she was her mom's sidekick, best friend, and better half. Not only was Gwen a big sister, best friend, and role model to her sisters Emily and Maddie, but she was also adored by her huge family and her lifetime of friends; all of whom were precious to her.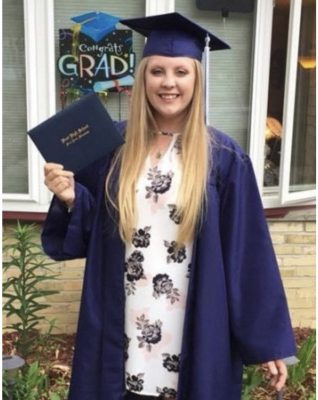 She had many interests: all things sports, including her favorites, the Milwaukee Brewers and Green Bay Packers, she enjoyed drawing, binge watching movies, hanging out with friends and sporadic dance parties.
She was very active growing up, competing in basketball, volleyball, and bowling. Her success in bowling led to a highly decorated bowling career in high school.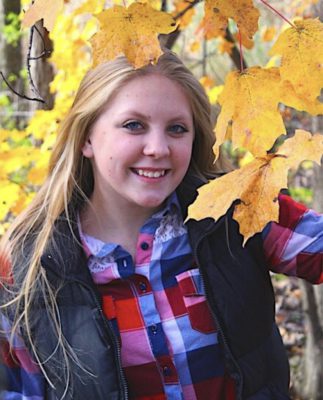 As a 2018 West Bend West graduate, she was a four-year varsity letter winner in bowling and received All Conference and All State honors all four years.
Early on, Gwen found her true passion on the softball diamond which led to a successful softball career.
Wearing #29, she played year-round competitive travel softball for over 10 years. In high school, she again earned her four-year varsity letter and was named two time All Conference player, was selected her senior year as All District, and named one of the top 50 high school outfielders in the state.
Her many years of hard work on the field opened opportunities for #29 to play in college where she received a scholarship to continue her softball career at Ellsworth Community College in Iowa.
There she was a three-year All Conference and All District outfielder, and still holds numerous school records in multiple statistical categories.
After receiving her Associate Degree in Criminal Justice, she transferred senior year to Waldorf University where she received a scholarship to complete her bachelor's degree in criminal justice and her final softball career.
For many years, she continued to give back to the sport she loved by volunteering to help young softball players develop their love of the game. For the last four years, she coached alongside her mom for her sister Emily's travel softball team.
In late fall of 2022, Gwen was diagnosed with Acute Lymphoblastic Leukemia (ALL). She immediately left school and began the intense three-year cancer treatment journey.
As devastating as this diagnosis was, she showed up for herself every single day. Even when she felt her worst, the athlete in her helped push her to champion through the first year of intense chemo treatments.
It would have been so easy for her to quit on this journey so many times. It is self-discipline, it is toughness, and looking toward the future and wanting something better for herself. It is so clear what a strong woman with strong faith she was.
Completing her first year's treatment, and being in remission, she planned to move forward as she always felt her calling was in law enforcement where she aspired to serve and help others.
Gwen recently re-enrolled at Waldorf to finish her degree online and graduate in the spring of 2024.
We will never forget her capacity to love, her strength, and her courage as she battled ALL. The family appreciates the love, prayers, and support on Gwen's behalf since her diagnosis.
They also find comfort in the hundreds and hundreds of condolences received, we will cherish your kind words and love for her. There is a common thread among these; here are just a few:
"Gwen's sweet soul left an imprint on our hearts that will be there forever."
"She was the absolute sweetest, kind, and funny young lady. I was blessed to have her in my life."
"You're a beautiful ray of sunshine Gwen."
"She was always finding a way to make somebody laugh…Thank you for making softball easy and showing me the ropes of college."
"Words cannot describe the loss of this beautiful being."
"Will never forget the way you lit up a room or the way your laugh sounded of pure joy. You lived life so fearlessly."
"You will always be remembered girl! Your fight, that contagious smile, and always being there for people on and off the field."
"Her smile radiates happiness."
"You were the most beautiful soul."
"You were a friend everyone could always count on. You always put everyone before yourself to make sure that they were okay before yourself. You knew how to light up a room and make everyone laugh on their bad days."
"Gwen was a beautiful light to everyone who knew her and she cared deeply for others, even in the midst of her gargantuan struggles."
"Her story of her perseverance through high school is a story I've been telling many young players for years. I will continue to tell her story as an inspiration for young women that you can achieve many things on & off the softball field if you have the willingness to work hard for them!"
"Gwen was truly an amazing person who always was full of energy and love."
"Now she is with Jesus and dancing on the streets of gold with her Savior."
Those Gwen leaves behind to cherish her memory include her mother, Jessica Hovorka; her father, Kyle Giese; two sisters, Emily Hovorka and Madison "Maddie" Hovorka; a brother, Mason Giese; maternal grandparents, James "Jim" and Lee Hovorka; paternal grandparents, Laurie and George Giese; great-grandmother, Janice Hovorka; 13 aunts and uncles; 17 cousins; and many other dear relatives and friends.
She is preceded in death by her maternal great-grandparents, Rev. James D. Hovorka, and Donald and Lee Metzelfeld; and paternal great-grandmother, Ann Schmidt.
We find comfort knowing she is watching sunrises with her Lord and Savior: "Weeping may endure for a night, but joy cometh in the morning." Psalm 30:5
VISITATION: The family will greet relatives and friends on Sunday, October 15, 2023 at Kettlebrook Church (2378 W. Washington St., West Bend, WI – 53095), from 1:30 p.m. until 4:15 p.m.
SERVICE: A funeral service in celebration and remembrance of Gwen will follow at 4:30 p.m. at the church.
The family would like to thank the doctors, nurses, and staff at Children's Hospital of Wisconsin for all their amazing support and care.
Memorials are greatly appreciated to the family. Click HERE if you choose to help.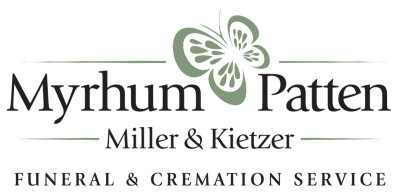 Myrhum-Patten Funeral & Cremation Service has been entrusted with Gwen's arrangements. Additional information and guest book may be found at myrhum-patten.com