Obituary | Helen Marie Thimm, 93, of Hartford
Jan. 29, 2019 – Helen Marie Thimm (nee Wondra) died peacefully with family at her side on Sunday, January 27, 2019 at Majestic Heights in Hartford. She was 93 years old.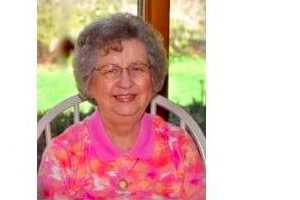 She was born on May 3, 1925 to Kilian and Cecilia (nee Gindt) Wondra. She married Walter Thimm on October 11, 1947 at St. Andrew's in Leroy. Helen and Walter operated Thimm Trucking for 45 years. They were talented Polka dancers and danced whenever possible. Helen enjoyed sewing and ceramics and taking care of her family. She always wished for a long life and a short obituary!

Helen is survived by her six children, Robert of West Allis, Fr. Donald of Brookfield, Carol (Raymond) Bressel of Rochester, MN, Roger (Linda) of Hartford, Joanne (Brian) Voll of Wheaton, IL and John (Pamela) of Andover, MN; grandchildren, Rachel Thimm, Lindsey (fiancé, John Potter) Bressel, Dana Thimm, Kevin (fiancé, Kori Branton) Thimm, Allen Thimm, Adam (Amber) Voll, Allison Voll, Brianna Thimm, and Chelsea Thimm. She is further survived by siblings, Cecelia (Joe) Belligan and Al (Pat) Wondra; siblings-in-law, Mary Wondra, Del Preston, Mary Thimm and other relatives and friends.
She was preceded in death by her husband, Walter in 2004; brothers, Arnold (Angeline) Wondra, Edward Wondra, Raymond (Alice) Wondra, Leo (Sally) Wondra, Paul Wondra, and sisters, Florence (Wilbert) Gitter and Gene (Norman) Matenaer; siblings-in-law, Dorothy (Art) Peters, Harold Thimm, and Joe (Joyce) Thimm.

A Mass of Christian Burial will be celebrated on Monday, Feb. 4th at 11:00 a.m. at St. Kilian Church, 264 W. State St. in Hartford with her son, Fr. Donald Thimm presiding. Visitation for Helen will take place before the funeral at church starting at 9:00 a.m. Private Burial will take place at St. Kilian's Parish Cemetery.
In lieu of flowers, memorials may be directed to St. Kilian Parish (428 Forest Street Hartford, WI 53027) are appreciated.
Helen's family would like to extend a special thank you to Fr. David LaPlante and the staff at Majestic Heights in Hartford for their compassionate care and support shown to Helen and her family.