February 13, 2020 – Hartford, WI – Jennifer "Jenny" Rahlf, 45, passed away on Thursday, February 13, 2020. She was born in Hartford on June 15, 1974 to parents Walter and Emily (Pfeifer) Rahlf. Jenny worked at J.W. Speaker Corp in Germantown for over 20 years.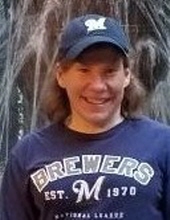 Jenny enjoyed spending time with her family, especially her nieces and nephews. She loved animals, especially her dog Lily. Jenny was an avid sports fan, watching the Brewers and attending as many games as she could. She also looked forward to annual summer fishing trips up north. Jenny will always be remembered for her smile.
Jenny is survived by her siblings, Rick (Barb), Nancy (Dave) Stewart, Dan, Lori (Doug) Mihm, Chris (Steve) Guerndt and John (Theresa); nieces and nephews, Alan (Ashley), Brandon, Andy (Miranda) Stewart, Sara (Joe) Miller, Jordan, Michael Mihm, Stephanie (Andy) Messig, Kristopher (Anna) Guerndt, Mitchell and Brooke Rahlf; great-nieces and nephews, Cameron, Kayson, Skylar, Boe, Eli, Rosie, Aaron and Bear; also survived by aunts, uncles, other relatives and friends. Jenny is preceded in death by her parents and nephew, Kyle Mihm.
Funeral Services will be held at Shimon Funeral Home, 824 Union St., Hartford on Monday, February 17 at 5 p.m. with Very Reverend Fr. Rick Stoffel presiding. Visitation for family and friends from 2 p.m. until time of service. In lieu of flowers, memorials are appreciated to the Hartford/Slinger Relay for Life.