September 12, 2021 – Kewaskum, WI – John Craig Creed age 75 of Kewaskum was called home to our Lord on September 8, 2021.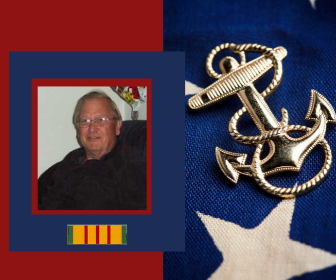 He was born on November 7, 1946, in Seattle, WA to William and Betty Ellen (Wells) Creed and was raised in Concrete, WA, and graduated from Concrete High School Class of 1964.
John served in the US Navy from September 1964 to September 1967 where he was a Radarman 3rd Class aboard the USS Currituck and served in Vietnam and later in the Naval Reserves from 1967-1970. On July 1st, 1967, John married Dianna Lewitzke and they began their family.
John was a Millwright. He owned, operated, and grew his business C & D Erecting, specializing in the design and installation of conveyor and material handling systems until he retired in 1996.
The most important thing in the world to John was his wife Dianna and his family. John also loved the outdoors. He hunted, fished, camped, skied, and enjoyed being active and outside his whole life. He took great joy in teaching his grandchildren how to hunt and fish and spent many summers out on the Eagle River Chain of Lakes where he and Dianna have a seasonal campsite.
John was a member of the American Legion for more than 50 years and a parishioner a Holy Trinity Catholic Church in Kewaskum, WI.
John is survived by his wife Dianna, his children Heidi (Jeff) Williams, Tammy Kreger, Christopher (Karla), and Daniel (Leah), grandchildren Stephanie Ramer, Kimberly Saunders, Ashley Kitzerow, Bailey Williams, Josh, Brandi, Cody and Kalie Kreger, Craig, Harrison, Grace, Clayton and Bradford Creed, great-grandchildren William Kitzerow and Kyle Saunders, his sister Ralen (Gary) Waymire, other relatives and friends. He was preceded in death by his parents.
A Funeral Service for John will be held at 6:00 pm on Friday, September 17th at the Phillip Funeral Home Chapel (1420 W Paradise Dr. West Bend, WI 53095) with Fr Jacob Strand presiding. Visitation will be on Friday at the funeral home from 4:00 pm until 5:45 pm. Final place of rest will be at New Holy Trinity Cemetery in Kewaskum.
Due to family health concerns, please do not send flowers to the family.