January 31, 2020 – West Bend, WI – John Max Bartol passed away January 30, 2020 at his home after a long, brave battle with Alzheimer's. He was born February 21, 1932 in Gile, Wisconsin to the late Peter and Corrine (Garreau) Bartol.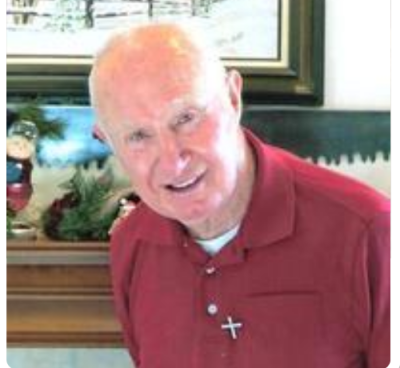 He is preceded in death by his brother Art of Gile and his sister, Jeanette of Hurley. He is survived by his wife Mary (Knoeck) Bartol, sister Bernice and her husband Bruce Tomczyk, sister-in-law Jean Bartol, brother and sister-in-law John and Donna Knoeck and sister-in-law Harriet (Knoeck) Martin. He was a loving, active participant in the lives of 13 nieces, nephews and many great-nieces and nephews. All of whom will miss his treasured presence dearly.
John's belief in God, family, and country could never be doubted. For he lived as he believed. A man of few words and a good listener, his analytical mind and caring nature allowed him to see to the heart of things. His insights and advice, when sought, were short and to the point. He was a quiet, gentle man, firm when necessary, but never unkind.
An avid reader with a curious mind, he studied Spanish and Italian, and even taught English as a second language to the Holy Cross Sisters in Taiwan. As Associates of the Holy Cross Sisters, an international Catholic community, since 1985 John and his wife Mary strived to lead lives committed to the ministries and Franciscan values of the Founders.
John and Mary loved to travel, visiting his distant relatives in Italy, the Holy Cross Sisters headquarters in Ingenbohl, Switzerland, and even hiking the Grand Canyon when John was 72. John and Mary were married in 1975 and started their lives together in the sanctuary they created on 40-acres along the Prairie River just north of Merrill, WI. They also were true snow birds, wintering in Chandler, AZ for several years. In 2000, they moved back to West Bend (Mary's home town).
John served his country both in the Air Force and the Marines. After leaving the military, he served in the Wisconsin State Patrol; retiring as a Sergeant after 28 1/2 years of service. In his retirement, he traveled the Upper Midwest with his wife Mary as successful Crafters.
Visitation will be at St. Mary's Immaculate Conception Parish, West Bend on Wednesday, February 5, 2020 from 10:30 a.m. to 12:15 p.m. A Mass of Christian Burial will be at 12:30 p.m. with Rev. Nathan Reesman presiding. There will be a Wisconsin State Patrol Honor Guard present and military honors will follow outside the church after Mass. A luncheon will be provided in the Parish Center.
In lieu of flowers, donations to St. Mary's School Living History (Barton), Family Promise of Washington County, or the Holy Cross Sisters Prison Ministry would be appreciated.
The Schmidt Funeral Home of West Bend is serving the family.