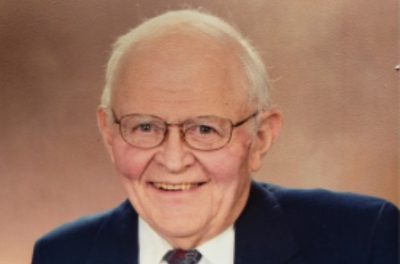 August 17, 2020 -Mayville, WI – On Wednesday, April 8, 2020, Ralph Anton Krumbiegel, loving husband and father of three children passed away peacefully at the age of 83 at Crossroads Care Center of Mayville.  Ralph was born on June 29, 1936, in the Town of Granville, WI to Rudolf and Agnes (Eiermann) Krumbiegel. Ralph grew up on the family farm in Germantown and later moved and eventually took over the family farm in Jackson. Ralph graduated in 1955 from Menomonee Falls High School. Ralph met the love of his life, Mary Ann (Roskopf) and they married August 23, 1958. Ralph was a lifelong farmer that liked antique IH tractors. He was a "jack of all trades", being self-taught in everything he did. Ralph was a hard-working, no nonsense type of man that didn't find any issue too challenging to overcome. He was a devout Catholic and a member of St. Francis Borgia Catholic Church of Cedarburg. He was a member of the Washington County Farm Bureau, Wisconsin Corn Growers Association, IH Collectors Wisconsin Chapter 4 and Wisconsin Antique Power Reunion.
Ralph was preceded in death by his father, Rudolf, his mother, Agnes, and his grandson, Devin Krumbiegel. He is survived by his wife, Mary Ann; daughter, Ruth (Jim) Fellion; sons: Robert (Kim) and Karl (Amy); grandchildren: Cory Champion; Brooke Krumbiegel, Nick (Angela) Krumbiegel, Sam Krumbiegel and Ben Krumbiegel; Brandon (Kayla) Lukes, Nicole Lukes, Jack Fellion and Jared Fellion.  Other family members that preceded his death are his parent-in-laws, Louis Sr & Elsie Roskopf, and sister & brother in-laws Florence Neureuther, Gertrude Stuettgen, Louis Roskopf Jr., and Richard "Butch" Roskopf.  He is also survived by Anthony, Roman, Willard & Charles Roskopf.
A memorial service will be held on Saturday, August 29, 2020 – 11:00 AM at St. Francis Borgia North Catholic Church 1375 Covered Bridge Rd. Cedarburg.  Family will receive friends at the church from 9:30 AM – 10:45 AM.