March 18, 2019 – West Bend, WI – Les entered into eternal life on March 16, 2019 joining his beloved wife of 61 years, Kay Mathews, and his sister, Marion Howard.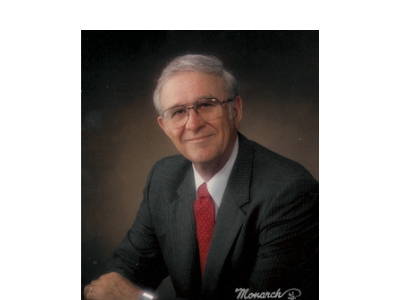 He was born on March 6, 1927 in Ashland Wisconsin, the eldest of five children, to the late Leslie A. and Margaret Howard.
Les is survived by a loving family: daughters Linda Juech (Tom) and Kyle; a son Michael (Debra); grandchildren Michelle Disterhaft (Derrick), Katie Reinke (Brad), Jayson Howard (Julie) and Jaymie (fiancé Scott) Howard; great-grandchildren Kaden and Mason Disterhaft, Ben Reinke, and Afton Howard; a brother Bob (Julie); sisters Shirley Davis and Geradine Randby (David); and numerous other relatives. He loved spending time with his family and being brought up-to-date regarding their ventures.
Les was a veteran having served for three years in the Navy, and has participated in the Stars and Stripes Honor Flight. After his tour of duty, he returned to Ashland and attended Northland College.
While at Northland College (1948-1952), Les continued his interest in playing basketball. He became the most prolific scorer in the college's history, setting a single season scoring record of over 400 points and a four-year record of over 1,500 points. He was the first player to ever be named first-team all-conference all four years. On November 9, 1968, Les was inducted into the Northland College Hall of Fame. After college he remained active in sports, playing "pot belly" basketball and officiating WIAA football and basketball.
In 1958, the Howard family moved to West Bend, where for the next 26 years Les continued his career in education, teaching at McLane School, Silverbrook Middle School, and from 1970 until he retired in 1986 as principal at Badger Middle School. The Wisconsin Association for Middle Level Education (WAMLE) presented the Stoltenberg award to Les for his outstanding leadership in middle school education, and he always said that the award belonged to the dedicated staff at Badger, as much as to him.
The family would like to thank all the friends and staff at the Cedar Ridge complex, the New Perspective senior facility, and Allay Hospice Services for the care and fellowship they shared with him.
Funeral Services for Les will be held at 6 p.m. on Friday March 22 at the Phillip Funeral Home Chapel (1420 W Paradise Dr. West Bend, WI 53095). Visitation will be at the funeral home on Friday from 3 p.m. – 6 p.m. Interment will be at Washington County Memorial Park.
In lieu of flowers, donations made to COLUMNS: The Les and Kay Howard Scholarship (P.O. Box 397, West Bend, WI 53095) will be appreciated.
Photo courtesy Monarch