Obituary | Mark Walter Friess, 62, of Jackson
April 19, 2019 – Jackson, WI – Mark Walter Friess, 62, passed away April 17, 2019 surrounded by his family.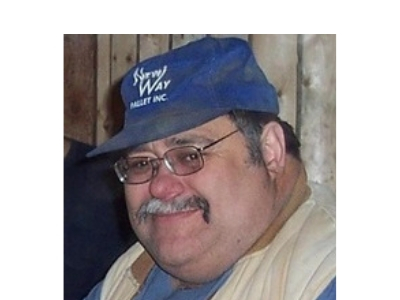 Known as Son, Honey, Dad, Pops, Grampy, Bubba, Marky Mark and some unmentionables, Mark was born June 12, 1956 to Roman and Dorothy (Hembel) Friess.  He lived his entire life on the family farm in the Town of Polk. Mark first saw the woman of his dreams in the halls of Slinger Middle School and knew that she was who he was going to marry.  He worked relentlessly to get her to go out with him and when she finally said yes, there was no turning back.  He married the love of his life, high school sweetheart and Brown Eyed Girl, Colleen Gray, August 2, 1975.  Together they had 4 children whom he cherished with all his heart.  He loved putting on the sports game to snuggle up with the kids and taking them for motorcycle rides.  Besides their 4 children, they "adopted" many others throughout the years.  Mark was very proud of being a dad and mentor.
Mark worked for the canning company in Jackson for over 30 years until they closed in 2004. His schedule was then devoted to helping his family and friends. Several notable adventures include helping at Small Town Bait and Tackle, operating Grandpa's Daycare, making a lot of sawdust for various projects and making flooring sample boards.  He truly enjoyed being able to do things for others.  There wasn't a thing Mark either couldn't fix himself or figure out who could.  He knew someone for everything.  Mark could befriend anyone and it felt like no matter where he went he was bound to run in to someone he knew.  He also enjoyed being able to teach his many talents to anyone willing to be taught.  Thankfully his patience grew stronger as the years went on.
He was an avid hunter and fisherman.  Many days were spent in the woods of Glidden with the Camp Bucknuts gang, in Necedah with his family and many more spent on the pier in Ladysmith with his family and friends.  His turkey hunting often involved reports of how many turkeys were walking past the cabin while he was looking out the screen door, however, there is one very funny story about a turkey trying to kill him!  Despite his kids and grandkids keeping him busy untangling lines and releasing many tree bass, he still managed to catch some monster fish.  He cherished the trips out west with his son and the Zurn boys.  He was also able to go on his and Colleen's dream vacation to Alaska.
Mark and Colleen got involved in pre-1840 reenactments in the early '80's.  Many friendships were made at rendezvous and even more memories.  There's something to be said for a warm campfire surrounded by friends.  Although it's been some time since they've been able to attend a rendezvous, that doesn't stop the group from getting together.  Mark always looked forward to the time spent with Geri, Howie & LoAnn, Chuck & Sharon, and Eric & Beth.  Eric's place happened to be a great rest stop that Mark often took advantage of when headed up North.
Perhaps his greatest joy in recent years was being the Bad to the Bone Grampy to his grandchildren, known as Little Buddy Izzy, Sausage Dog, Bubbers and Stinky.  He loved spending every moment he could with them and spoiling them with ice cream.  Some of the favorite memories are 4 wheel rides, going up north to talk and fish, shooting guns and putzing around in the shop.  These kids are professionals at applying bandages!  It was always amazing how a sick grandchild was so quickly cured with a "hit of acid" (Diet Mountain Dew) and Dairy Queen.
He enjoyed visiting with everyone he could.  He would make several hour drives to just stop by and say Hi.  He looked forward to the BS sessions with cousin John, Marvin, and the others from the restaurant.  He always had some kind of smart comment.
Mark's big personality and bright smile are going to be dearly missed by those left behind.  He is survived by his wife of 43 years Colleen, his children: Heather (Wendy), Stephanie (Robert) McLeod, Jeremy (Judy), Amanda (Dylan) Hauck, grandchildren: Brandi, Trevor, Isaiah, Olivia, Elie and Sophia, baby brother James (Vicki Shymanski), Godson Ryan, along with many other relatives and dear friends.  Mark was preceded in death by his parents Roman & Dorothy, his parents-in-law Frank & Esther (Goschey) Gray, an infant brother, granddaughter Mayah, and beloved dogs Talon & Chester.
Visitation will be Thursday, April 25 at the Schmidt Funeral Home in Jackson from 3 p.m. until 5:45 p.m. with funeral services to follow at 6 p.m.  Burial will be Friday in Washington County Memorial Park.
The family would like to thank the staff at Aurora Hartford Hospital and the Oconomowoc ICU for their care during this difficult time.  Your compassion is truly appreciated.  We would also like to thank Dr. Steven Holcomb.  We cannot thank you enough for the care you have given Mark over the years as well as the care to other family members.