July 6, 2020 – Kewaskum, WI – Mildred Ann "Milly" Theisen (Schlosser), 91, of Kewaskum was called home to be with the Lord on July 1, 2020 at Kettle Moraine Gardens in Kewaskum surrounded by her family.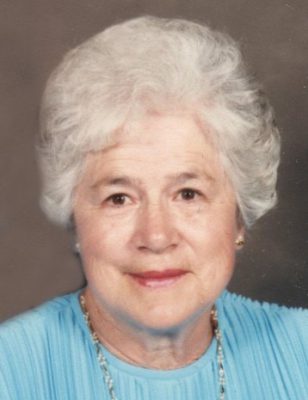 Mildred was born on April 7, 1929 in New Fane to George and Clara Schlosser (Uelmen). She was united in marriage to Alphonse (Al) Theisen on June 5, 1948 at St. Michaels Catholic Church in St. Michaels. Alphonse passed away on April 28, 2001.
Mildred was a life long member of St. Michaels Catholic Church. As a church member she participated in the Christian Women Group, as well as various parish activities such as the Friday Fish Fries and the Church Festivals. She enjoyed bowling with the Tuesday afternoon bowling league, visiting casinos with Al and Linda, as well as playing sheepshead. She enjoyed gardening with Al as well as raising her hardy raspberries and strawberries.
Milly enjoyed hosting family get-togethers and holidays, spending time with her children, grandchildren and great-grandchildren. Milly and Al provided grandparent daycare for their grandchildren. Her German potato salad, poppy seed torte, schaum tortes and lemon pie were family favorites.
Those Mildred leaves behind to cherish her memory include her five children, Linda Theisen; Mary (Kerry) Faber and their children, Nicholas (fiancee Tiffany Tillman) Faber, Monica (fiance Russell Davidson) Faber, Kyle (Missy) Faber, and Kali (fiance Jon Palmer) Faber; Julie (John) Herriges and their daughter, Courtney Herriges; Jane (Don) Disler and their children, Sara (Ben) Zimmermann and Adam (Bobby Correll) Disler; and Joe (Kriss) Theisen and their children, Andrea (Jason) Jenkins, Bryan Theisen, Christa (Joel) Mentzel, Rachel, Aaron and Becca Vandermus.
Loving great-grandmother to Sierra, Adalyn, Everly, and Isla Zimmermann; Kare Disler; Heidi, Andrew, Natalie, Riley, and Parker Jenkins; Abraham Mentzel; and Della and Lainey Faber;
She is further survived by life-long friend, Gertrude Backus; as well as nieces, nephews, other relatives and friends. Mildred was preceded in death by her husband Al, her parents and numerous other relatives and friends.
A Mass of Christian Burial for Mildred will be held at 3 p.m. on Friday July 17, 2020 at St. Michaels Catholic Church, 8883 Forest View Rd – St. Michael, WI, with Rev. Jacob Strand officiating. Interment at St. Michaels Catholic Cemetery in St. Michael following Mass.
We will be following social distancing procedures. Mildred's family has requested guests refrain from hugs and shaking hands. The family will greet relatives and friends at Church prior to the Mass, from 1 p.m. until the time of service. In lieu of flowers, memorials to Alzheimer's Association or Holy Trinity Catholic School in Kewaskum would be appreciated.
Mildred's family extends their heartfelt appreciation to Dr. Mike Mosley with the Froedert Clinic in West Bend, for his dedicated care to both Mildred and Alphonse. Thanks also to the thoughtful and dedicated care administered by the staff at Kettle Moraine Gardens over the past 3 years. Thank you to the staff at Preceptor Hospice for the care they provided.
Please consider signing our online guest book to share your condolences with the family. Cards addressed to the family may be sent in care of: Myrhum – Patten Funeral and Cremation Service, 1315 W. Washington Street, West Bend, WI 53095.