Obituary | Mildred M. Wolf, 95, of Allenton
November 21, 2019 – Allenton, WI –Mildred (Millie) Wolf passed away peacefully on Wednesday, November 20, 2019 at the age of 95.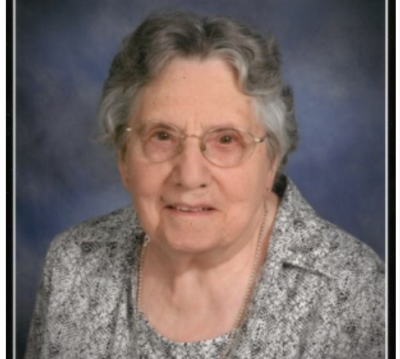 Millie was born on May 7, 1924 in Allenton to Mathias and Ottilia (Martin) Langenecker. On May 21, 1947, she married Albert Wolf in Allenton. She was a homemaker, and they farmed in the town of Addison on her homestead for many years. In 1972, their sons joined them in forming Sunset Farms Inc, where they enjoyed working and expanding the family farm business. They enjoyed traveling in the states and Europe, dinner theater at the Fireside, but mostly loved their ever-expanding family. And of course, all the family get togethers. She loved the many visits with the grandkids and their spouses and the little great-grands and playing Rummikub!
She was a deeply religious lady, a member of Resurrection Parish. Millie shared her faith as a CCD teacher and a role model for everyone. She was active in many community organizations, including the Allenton Area Advancement Association. She was a lifelong quilter, making hundreds of quilts for ABC Baby Quilts and enjoyed making special hand-stitched quilts for the grandchildren.
She is survived by her children, Ray (Anne), Marilyn (Jim) Dukelow, Judy (Don) Lesmeister, Dan (Ellen), Bernie (Cindy), Linda (Milt) Luka and daughter-in-law Sue Wolf, 21 grandchildren, 36 great grandchildren, her sister, Beulah Zingsheim, brother-in-law, Father Werner Wolf, and sister-in-law, Lucy Wolf. Also survived by many nieces, nephews, relatives and friends.
She is preceded in death by her husband, Albert, parents, Mathias & Ottilia Langenecker, son Paul, siblings and in-laws, Armand & Helen Rettler, Christ, Rudy & Lorraine Heinecke, Norbert & Anita Langenecker, Henry & Lucille Gehl, Roman & Marie Langenecker, Wendolin Zingsheim and Clem and Rosella Langenecker, parents in-law, Martin & Mary Wolf, brothers-in-laws, Clem, Bill and Father Eugene Wolf.
The family will greet relatives and friends at the Shimon Funeral Home (824 Union Street, Hartford, WI 53027) on Sunday, November 24 from 3:00 to 7:00 p.m, with prayer service at 7 p.m. Additional visitation at the Resurrection Church (215 Main St, Allenton) on Monday, November 25, from 10:00 – 10:45, followed by a Mass of Christian Burial at 11:00. Interment in Sacred Heart Cemetery in Allenton.
In lieu of flowers, memorial contributions are appreciated to Resurrection Catholic Church, (P O Box 96, Allenton, WI 53002) or family wishes.
The family wishes to thank the staff at the Pavilion at Glacier Valley, Allay Hospice Care, Dr. Mian and all the caregivers who provided care over the past years. You are greatly appreciated.