Obituary | Robert S. Zarling, 87, of Kewaskum
March 11, 2019 – Kewaskum, WI – Robert S. Zarling, of Kewaskum, passed away at South Padre Island, Texas on March 5, 2019. A native of Plainview, Minnesota Bob was born April 26, 1931 to William and Evelyn Zarling and was baptized and confirmed at Plainview Presbyterian Church. He attended grade school and high school in Plainview, MN graduating in 1948.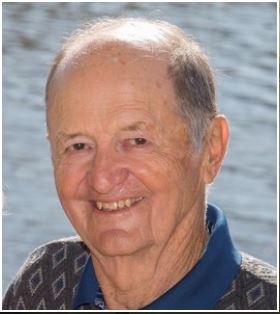 Bob joined the US Air Force after high school and served from September 15, 1948 – August 4, 1952 where he spent most of his time in Tokyo, Japan. He attended the University of Minnesota graduating in 1956 with a BS in Business Administration. He began work in a series of sales positions for Regal Ware in Minneapolis and during that time he met his wife Char.
Bob worked at Regal Ware, where he was the Senior Executive Vice President of Sales and Marketing for 35 years. Bob and Char were united in marriage on September 5,1953 at New England, ND and soon made their home in Wisconsin.
Bob was on several Board of Directors – West Bend Country Club, Threshold, YMCA Board member, Co-chairman of Untied Way, Kiwanis Foundation, past President of Cookware Association, member of Regal Board of Directors, Direct Selling Association, President of Kiwanis Foundation, Board member of Kiwanis Club, American Legion Post 384, and served as member of the Military Honor Guard. Bob was also a charter member of Our Saviors Lutheran Church.
He is survived by his wife Charlene Zarling and their 3 children Jill (Frank) Weis, St. Paul, MN, Joy (Bryan) Breese-Holz, Berlin, WI; Joel (Barb) Zarling, Ashford, WI; six grandchildren; Rachael (Terrance) Roloff, Jack (Brittney) Breese & Andy Breese – Lauren (Curt) Carlson, Adam (Elspeth) Weis & Zachary (Bailey) Weis; 6 great grandchildren, nieces, nephews, relatives & friends.
The Funeral Service will be held at 11 am on Saturday March 16 at St. John's Lutheran Church (809 S. Sixth Avenue, West Bend, WI) with Pastor Jeff Dorth presiding. Visitation will be at the church on Saturday from 9:30 a.m. until time of service. Interment will take place at Washington County Memorial Park.
Memorials can be sent to St. John's Lutheran Church Foundation, Kiwanis Club of Kewaskum or the charity of your choice and would be appreciated by the family.
The family would like to thank the Pastors and fellow parishioners of St. John's and our relatives and friends for your love and support.