September 21, 2022 – Washington Co., WI – Ronald Elmer Virchow Sr., "Ron" "Fireman Ron", 84, of the Town of Trenton, WI, passed away peacefully to be with his Lord on Tuesday, September 20, 2022, with his family by his side in West Bend, Wisconsin.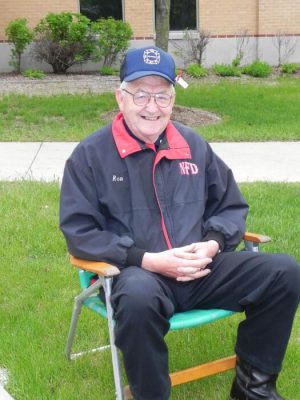 He was born on November 9, 1937, to the late Elmer H. and Elsie D. (nee Marr) in West Bend. He graduated from West Bend High School in 1956. On September 18, 1965, he was united in marriage to Joyce Guslick at St. John's Ev. Lutheran Church in West Bend.
Dad was proud to serve his country in the Army National Guard from 1956 until 1961.
Dad was a licensed pilot for his entire adult life and had an avid interest in "all things planes."
Dad then went on to work at Weasler Engineering for 9 years as a Tool and Die Machinist, and then worked at Gehl Company for 16 years. Ron was known as "R.E.V." around Gehl Company. Subsequently, Dad worked at A.O. Smith until his retirement in 1997. He was a very dedicated and proud 54-year member of the Newburg Fire Department and spent 6 proud years with the Barton Fire Department. He was also an active member of Pilgrim Lutheran Church in West Bend.
In Dad's free time, he could be found in his garage-turned-machine shop, with various building or repair projects. Dad had a brilliant mind, always building or working on countless projects and drawing up plans and schematics for many more. He even made his own tractor and lawn mower that he used for about 50 years. Dad had a winning smile and a wonderful personality. He had great stories and was always willing to share them. Dad was a railroad enthusiast as well; he loved all things railroad related.
Dad loved to play the organ and was a member of the Kimball Theatre Organ Society since 1994 at the Oriental Theater in Milwaukee. However, the most important thing to Dad was his family, and he adored his children and grandchildren. He will be dearly missed by all who knew him.
Ron leaves behind to cherish his memory: his loving wife of 57 years, Joyce; his four children, Ronald (Cheryl) Virchow Jr., Valerie (Keith) GeRue, Timothy (Paula) Virchow, and Daniel Virchow; six grandchildren, Brittany (Jonathan) Hokana, Becky Virchow, Andy Virchow, Steven Virchow, Catherine GeRue, and Elizabeth GeRue.  He also leaves behind additional cherished family and countless friends.
A funeral service for Ron will be held on Saturday, September 24, 2022, at 12 p.m. at Pilgrim Lutheran Church, 462 Meadowbrook Drive, West Bend, WI, with Rev. Raffa and Rev. Fisher presiding.
The family will greet relatives and friends at the church on Saturday from 10 a.m. until 11:45 a.m. when the Newburg Fire Department will do a walk-through.
Memorials in Ron's name to Pilgrim Lutheran Church or the Newburg Fire Department would be greatly appreciated.
The family would like to thank the pastors of Pilgrim Lutheran Church, the Newburg Fire Department, the medical personnel at Aurora Hospital and Cancer Center in Grafton, and the Samaritan Home that lovingly cared for Dad. He was very moved by your care for him.