Obituary | Rosemarie E. Lechner, 91, of Hartford
May 10, 2019 – Hartford, WI – Rosemarie E. Lechner (nee Christ), 91, of Hartford, Wisconsin passed away Wednesday, May 8, 2019 in the comfort of her home.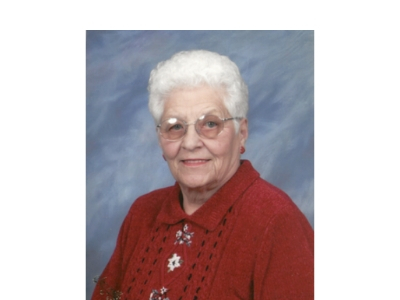 Rosie was born January 30, 1928 in Rubicon, WI to Rose (nee Hauser) and Edward Christ. She was united in marriage to Francis E. Lechner "Fritz" on May 1, 1948 at St. Mary's Catholic Church in Woodland, WI. Rosie worked in the kitchen at the Hartford High School for 11 years, Weyenberg Shoe Factory for seven years, and at Lee Custom Engineering for 10 years. She was a member of St. Kilian Catholic Church for over 60 years. She cherished her family dearly and her friends. She enjoyed cooking for her family, going up-north, playing cards (especially Canasta) and Bingo.
Rosie is survived by her four loving sons, Thomas (Kristine) of Richfield, Donald (Doris), Joseph (Kathleen), and Robert Lechner, all of Hartford; two loving daughters, Cheryl (Michael) Checolinski and JoAnn Engelke, both of Hartford; cherished grandchildren, Jennifer (Chris) Ziegelbauer, Michael (Dana) Lechner, Michelle, Scott (Jill), Derek (Sasha) Lechner, David (Breanne), Blake Lechner, Ryan, Ricky Checolinski, Kristin(Jeff) Williams, Heather Engelke, Cynthia Hartl, Sean (Shawnda) Van Derel, and Luke Lechner; cherished great-grandchildren, Neyana, Andre, Ziegelbauer, Korbin, Layla, Clayton, Parker, and Farrah Lechner, Lennon Lechner, Colin Schmitt, Rowan, Griffin Williams, Isabella Hartl, Easton, Isla, and Elliott Van Derel; dear sister, Dolores Margelowsky; and dear sister-in-law, Shirley Christ. She is further survived by loved nieces, nephews, other relatives and friends.
She is preceded in death by her parents; parents-in-law, Cecelia (nee Bingen) and Joseph Lechner; beloved husband of nearly 53 years, Fritz; son-in-law, Peter Engelke; sisters, Lorraine (Walter) Stucke and Sally (Otto) Frieman; brother, Marvin Christ; brother-in-law, Lloyd Margelowsky; sisters-in-law, Marie (Edgar) VanBeek, Margaret (Joe) Reis, Helen (Norbert) Elsinger, Florence (Gordon) Perenchio, Bernice (Ray) Jochem, and Dorothy (Don) Menzel; and brothers-in-law, Paul and Joseph (Florence) Lechner.
Mass of Christian Burial for Rosie will be celebrated Monday, May 13, 2019 at 6 p.m. at St. Kilian Catholic Church (264 W. State Street Hartford, WI 53027) with Rev. Mike Petrie officiating.
Family will greet relatives and friends at the church on Monday from 2:30 p.m. -5:45 p.m.
Interment in St. Kilian Catholic Cemetery-Hartford, Tuesday, May 14, 2019 at 10 a.m.
In lieu of flowers, memorial contributions in memory of Rosie, to St. Kilian Catholic Church (428 Forest Street Hartford, WI 53027) or to the Vince Lombardi Cancer Foundation are appreciated.