Obituary | Ruth F. Nennig, 97, of West Bend
April 9, 2019 – West Bend, WI – Ruth F. Nennig, 97, passed away peacefully on April 5, 2019.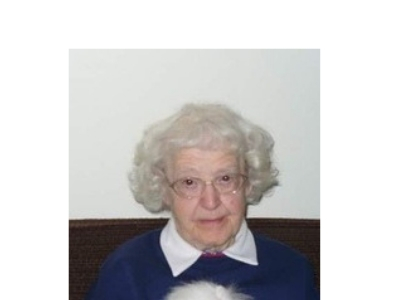 Ruth was born on September 15, 1921 to the late Paul Sr. and Anna Gundrum. Ruth lived in Green Bay, Wisconsin for the past six years. Previously she was a longtime resident of West Bend.
Ruth grew up on a farm in St. Anthony, Wisconsin and attended St. Anthony Catholic School.  Ruth was united in marriage to Rudolph "Rudy" Nennig in 1950 at Holy Angels Catholic Church in West Bend. They raised their family together in West Bend where she retired from Holiday Inn and the West Bend Company.
In addition to her parents, Ruth was preceded in death by her husband Rudy; daughter Marilyn; five brothers Wilbur (Mercia) Gundrum, Harvey (Lois) Gundrum, Wally (Helen) Gundrum, Paul Gundrum Jr., and Fritz (Arlene) Gundrum; three sisters, Esther (Norbert) Hartmann, Laverne (Steve) Ames, and Mary (Bruce) McCray.
Ruth is survived by their daughter Darlene Anderson; son David (Barbara) Nennig; five grandchildren Katrina (Jason) Anderson, Erin (Mark)West, Troy Sproul, Kristine (Mike) Cumbers, Kerri Sproul; seven great grandchildren, Austin West, Daniel West, Kristoffer Sproul, Morgan Rabas, Ashlynn Rabas, Kyle Rabas, and Alexis Cumbers; sister-in-law Carole Gundrum; and other relatives and friends.
The family would like to extend a special thank you to the dedicated and caring people at Autumn's Promise Assisted Living and Heartland Hospice in Green Bay and to Interfaith Caregivers of Washington County.
A Mass of Christian Burial will be held on Friday, April 12, 2019 at Holy Angels Catholic Church at 11:30 a.m. with Rev. Patrick Heppe presiding. Burial will follow in Holy Angels Cemetery. Visitation will be Friday at church from 10 a.m. until 11:15 a.m.