Obituary | Ruth H. Steinbach (nee Pamperin), 96, of Kewaskum
July 9, 2020 – Kewaskum, WI – Ruth H. Steinbach (nee Pamperin), 96, of Kewaskum, passed away peacefully on Wednesday, April 1, 2020.
She was born on January 1, 1924 to the late William and Lidia (nee Schwertz) Pamperin in the town of Wayne.  She spent most of her life there before moving to Kettle Moraine Gardens in Kewaskum in 2009.  Ruth was a lifetime member of Zion Ev. Lutheran Church in the town of Wayne where she was baptized, confirmed, and united in marriage to Martin Steinbach on October 17, 1942.  Martin preceded Ruth in death on February 2, 2008.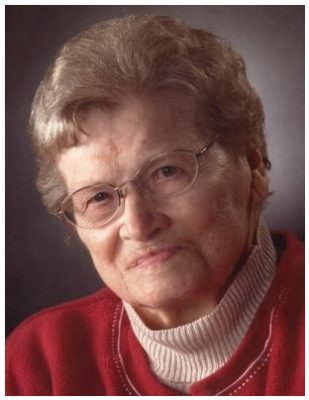 Ruth was active in her church serving as an organist, and was a charter member of Zion Ladies Aid where she held numerous offices and served on many committees.  She lived a full life and enjoyed traveling, going to Shawno, playing cards, tending flower gardens, sewing, cooking, and most of all, visiting with family and friends.
Ruth is survived by her three daughters, Elaine (Gerald) Schulz, Rosanne Kjornes, and Lorene Lydia Higgins (Dan Voge); 10 grandchildren, Sue, Tom, Dan, Jerry, Steve, Barb, Christy, Linda, Lynn, and Paul; 17 great-grandchildren; 4 great-great-grandchildren; a sister-in-law, Lorraine Steinbach; and many other relatives and friends.
In addition to her husband and parents, Ruth was preceded in death by a son-in-law, Glen Kjornes; a granddaughter, Jeanette Schulz; a great-grandson, Christopher Wieting; a sister, Dorthea (Arnold) Rosenthal; and a brother, Paul (Gertrude) Pamperin.
A memorial service in remembrance of Ruth will be held on Monday, July 20, 2020, at 6 p.m., at Zion Ev. Lutheran Church (6438 Hwy D Allenton, WI).  The family will great relatives and friends at the church on Monday from 4:30 p.m. until the time of service at 6:00 pm.
The family would like to extend a special thank you to the staff and all the caregivers at Kettle Moraine Gardens for the wonderful care and the extra thoughtful things that were done for Ruth.  The family would also like to offer a special thank you to Rev. Steven Bode for his many prayers, visits, and devotions and to the nurses and staff at the Samaritan for their care.
Myrhum-Patten Funeral & Cremation Service has been entrusted with Ruth's arrangements.