May 28, 2019 – Hartford, WI – Sylvester "Syl" Nicholas Goeller, 90, of Hartford, passed away on Monday, May 27, 2019 at Majestic Heights Assisted Living in Hartford.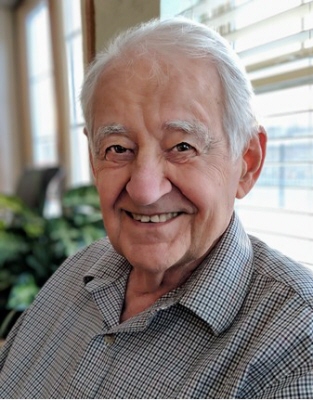 Syl was born on January 7, 1929 in Hartford, Wisconsin, to Nicholas and Mary (nee Schellinger) Goeller. He was united in marriage to Eileen Breuer on September 12, 1951 at St. Peter's Catholic Church, Slinger.
Syl's life was deeply rooted in faith and family. He worked growing his dairy farm and the legacy of a successful family business. He was a lifetime member of St. Lawrence Catholic Church, Knights of Columbus, Catholic Knights and Moose. He was also active in the Farm Bureau, church choir and St. Lawrence Fire Department. Syl and wife Eileen "Ike" loved hosting family and friends at the Legend Lake cottage. They enjoyed traveling to Europe, Hawaii, Alaska, the Caribbean and they were snowbirds for many years in South Padre Island, TX. Throughout his life he was tightly knit with multiple card clubs and social groups. Described as salt of the earth, he modeled authentic joy in life, affection, gratitude, work ethic and generosity, sharing his time, treasure and talents "until the cows came home."
He is survived by his loving children, James "Jake" Goeller of Madison, Ann (Michael) Fritz of Fond du Lac, Carol (John) Kwiatkowski of Richfield, Patrice (Ronald) Hoeschele, Gregory (Ellen) Goeller, Mary (Thomas) Martin, Thomas (Carol) Goeller, all of Hartford, and Lori (Calvin) Lawrence of DeForest; 24 cherished grandchildren, 7 great-grandchildren, 1 great-great grandchild and sisters-in-law and brothers-in-law, Bernice Breuer of West Bend, Mary Peters of Hartford, and Jerry (Rosemary) Breuer of Slinger. He is further survived by many nieces, nephews, other relatives and friends.
Syl was preceded in death by his wife Eileen, their parents, grandson Gregory Goeller Jr, sister Bernice (Robert) Hug, sisters-in-law and brothers-in-law, Katherine (Clarence) Becker, Walter Breuer, Thomas (Kathryn) Breuer, Elroy Peters and LeRoy (Carole) Breuer.
Mass of Christian Burial for Sylvester will be Friday, May 31, 2019 at 11:30 a.m. at St. Lawrence Catholic Church (4886 Hwy.175, Hartford, WI) with the Very Rev. Richard Stoffel officiating. The family will greet relatives and friends on Friday at the church from 9 a.m. to 11:15 a.m.
Interment will take place in St. Lawrence Cemetery following Mass.