April 4, 2020 – West Bend, WI – On Wednesday, April 1, 2020, Thomas Thelen of West Bend, Wisconsin, beloved husband of Gladys Thelen, passed into eternal life peacefully at home, surrounded by his family.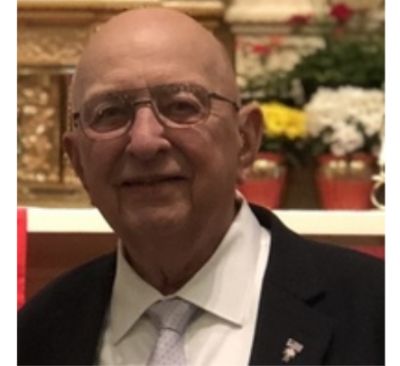 Thomas is father of Gary (Carol) Thelen, Michael (Susan) Thelen, Linda (Richard) Goeden and Alan Thelen (Special friend, Bonnie Kolbe); proud grandfather of Megan Goeden (Brian Schulte), Catherine (T.J.) Kavanagh, Nicholas Goeden, Paul Goeden, Michael Thelen, Anna Thelen, Dillon Thelen, Margaret Thelen, Cathleen Goeden, Julia Thelen, Jack Thelen and Caroline Thelen; and great-grandfather to Thomas and Warren Kavanagh.
Tom is preceded in death by his parents Nicholas and Viola, sister Dolores Stifter, brothers Raymond, Kenneth and Paul. Thomas is survived by his younger brother Robert (Bunny), sister-in-laws Shirley Thelen and Agnes Vorphal, and beloved nieces and nephews.
Tom was born in Milwaukee on July 5, 1930 and honorably served his country in the Navy 1948-1952 and Air Force 1952-1957. On May 17, 1958, Tom and Gladys married at Holy Angels Church and went on to raise their family in West Bend, favoring Fourth of July memories 'up north' with their children and then their grandchildren. Tom was a masterful woodworker in his spare time, famously crafting homemade Christmas manger sets for his 12 grandchildren. No family gathering was complete without his famous Old Fashioneds, or better known to family and friends as 'Olfies.' He enjoyed a 30-year career at Wisconsin Electric and retired in 1992. A proud servant and man of Christ, Tom was an active 4th degree member of the Knights of Columbus and he and Gladys have been members of Saint Frances Cabrini Church in West Bend for over 50 years.
The family would like to thank the Zablocki VA Medical Center as well as Aurora Hospice.
A private family burial will take place at this time, with friends to be received and a funeral mass with celebration of his life at a later date.
In lieu of flowers, remembrances may be made to The Fisher House at Zablocki VA Medical Center (5000 W. National Ave. Building 150 Milwaukee, WI 53295) or St. Jude Children's Hospitals (501 St. Jude Place Memphis, TN 38105).