October 2, 2023 – Washington Co., WI – Thomas "Tom" E. Snyder, 72, of Hartford, WI, passed unexpectedly on Tuesday, September 19, 2023. He was born in Hartford, WI, the son of the late Arthur and Harriet Snyder. Tom graduated from Hartford Union High School and attended the University of Lake School and The University of Wisconsin Madison.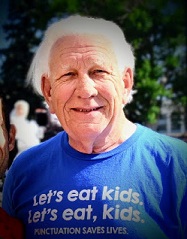 After living in the West Bend area for many years, Tom moved to Milwaukee, St. Louis, and then Northern California for new job ventures. He enjoyed taking a leisurely drive at or below the speed limit, holding up traffic, and looking out the window, just as much in the California Central Valley as he had in the back roads of Wisconsin.
He discovered a new love of sailing while out west, where he was an active member of the Stockton Sailing Club. While there, he earned fame for his spot-on Rick Flair Halloween costume. His family was very grateful he decided to hang up the sails and return to the sandy soils of Wisconsin upon retiring from selling equipment for Ray Gaskin Service in 2021.
In retirement, Tom enjoyed volunteering at the Blue Lotus Center, where he shared his passion for cracking jokes and baiting fishhooks for visitors from all over Southeast Wisconsin.
Tom loved car and motorcycle racing of all types, and would not let a lack of a pit pass stop him from giving unsolicited advice to any driver or mechanic in pit row.
He raced stock cars and 'midget sprint' cars at two different times in his life, back in the 1970s and again in the 1990s, winning Rookie of the Year in 1975.  One of his favorite places to be was in the pits at Angel Park Speedway in Sun Prairie.
Tom loved to find sites unusual or out-of-the-way. He loved visiting Big Brutus in Southeast Kansas and other massive excavators around the country (not always with permission!). He once sold and delivered a garbage truck to Area 51. Tom possibly had more knowledge of useless facts than anyone on the planet and would brag that he was the head of the "Mensa Minutia Society."
Tom is survived by his sons Andy (Lindsay) of Prairie Village, KS, and Matt Snyder of Nashville; grandchildren Gray, Halle, Tessa, and Campbell; brother Richard Snyder of Las Vegas, NV; niece and nephew Sarah Snyder and Austin (Ashley) Snyder also great-nephew and niece Grant and Sophia.  He was preceded in death by his parents and a brother David Snyder.
A celebration of life party will be held at the Blue Lotus Center, 5501 County Highway M, West Bend, WI, on November 4, 2023, at 3 p.m. In lieu of flowers, memorials in Tom's name to the Blue Lotus Center, West Bend, or The Salvation Army nearest you would be appreciated.