Germantown, WI – Chef Jodi Janisse Kanzenbach from Prec1nct Tap + Table in Germantown, Wi, is easily accessible when it comes to talking about food, the experience and the art. Be prepared, however, because like her web page touts, she is "breaking all the rules" when it comes to what's expected with a culinary experience.
In an article below the heralded young chef, pulls the curtain back on the process behind designing a menu at Prec1nct Tap + Table.
I am often asked how I decide what to put on our menu.
Last night I had a table ask me just this. I didn't really have a good answer.
The gentleman looked at me and said I don't get it! I said what do you mean? Get what?
He said everything we had was awesome but it's all over the board. Well, yah, I couldn't argue with him.

He went on to talk about our Tempura Shrimp to start, simple, bit of Thai flair.
On to the classic Wisconsin Fish & Chips. He told me it was a perfect batter lightly fried, and he knew it was Cod and not the mystery fish so many places serve in its place these days.
They also had our Vegetarian Mole Enchiladas and complimented on the authenticity of the Mole sauce.
Then he looks at me and says, real French Creme Brûlée for Dessert??!! Yup!
We went on to have a discussion of my background in the industry, that I am French…. click HERE to read the rest of the story… (which is receiving rave reviews….)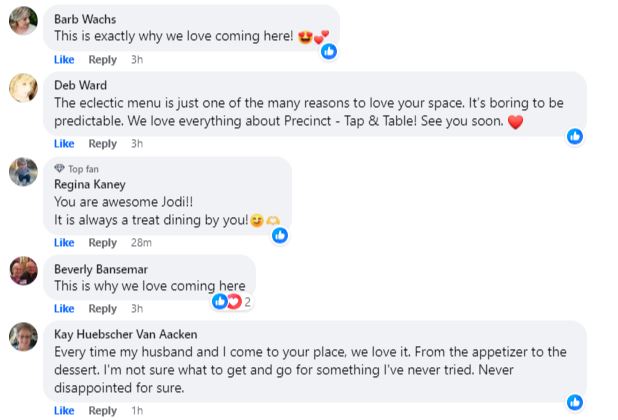 On a history note: Below is an article highlighting Chef Jodi Janisse Kanzenbach's artistic talent as she brings the dinner table to the farmer's field. 
West Bend, WI – About five rows deep into the field of sturdy Brussel sprouts the crew at Precinct Tap + Table started setting one long row of tables. White linen tablecloths were decorated with a mix of crafty glass jars, a variety of pumpkins and artsy name tags for guests to find their spots.
After a five-year break, chef Jodi Janisse Kanzenbach teamed with Gus and Tiffany Witte for another edition of Dinner on the Farm.
The menu for the four-course gourmet dinner featured:
The bite-sized hors d'œuvre was Amuse bouche: Basil pesto butternut squash puree, cranberry conserve, toast crostini, Cinderella pumpkin monte mornay cheese, maple-glazed kabocha squash, topped with candy pecan dust.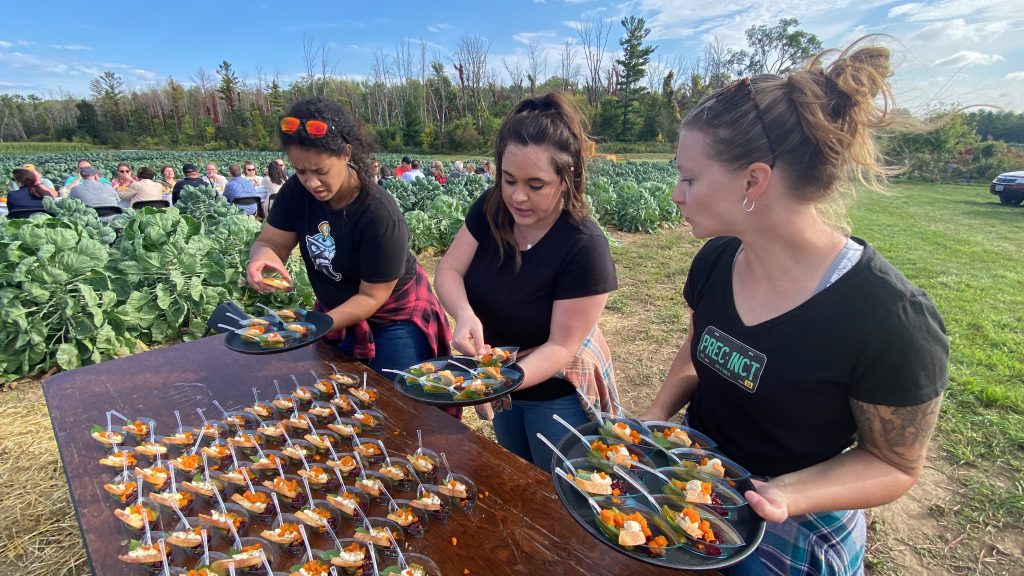 Hungarian Mushroom Soup: Saute of wild mushrooms flavored with smoked paprika, dill, and lemon and topped with slices of Old Germantown smoked Hungarian sausage.
House made lamb chorizo salbutes: butternut squash salbutes, red chimichurri, pickled watermelon rind pico, and cilantro yogurt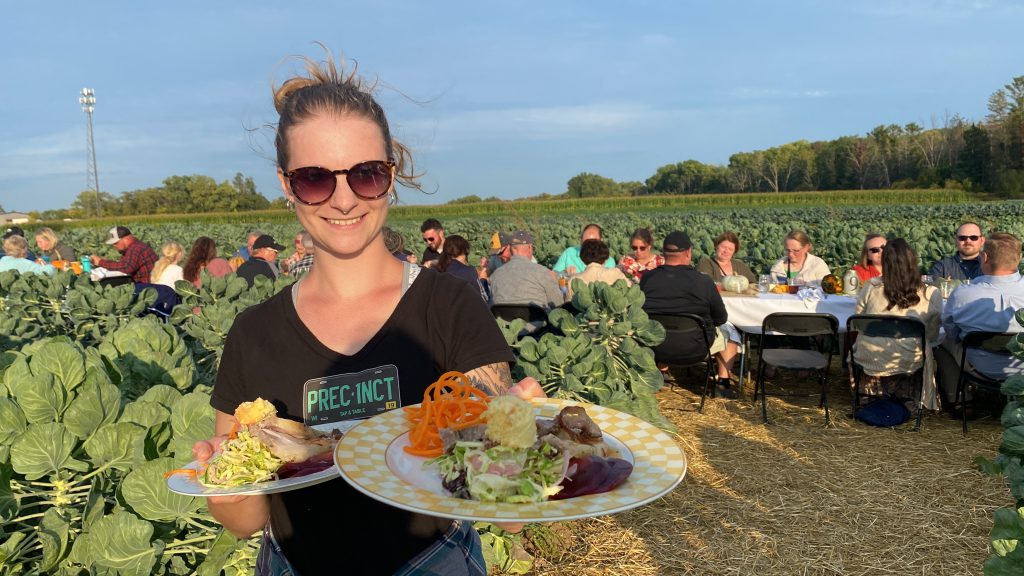 Bacon-wrapped slow roasted pork loin: Served with vanilla pickled beets, shaved Brussel sprouts, and honey crisp apple salad, cider glaze and parsnip and brie creme moulee.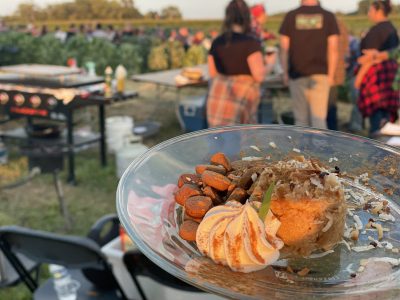 Deconstructed pumpkin pie: Pumpkin butter custard with peppernut cookie, dulce de leche, cinnamon whip and toasted coconut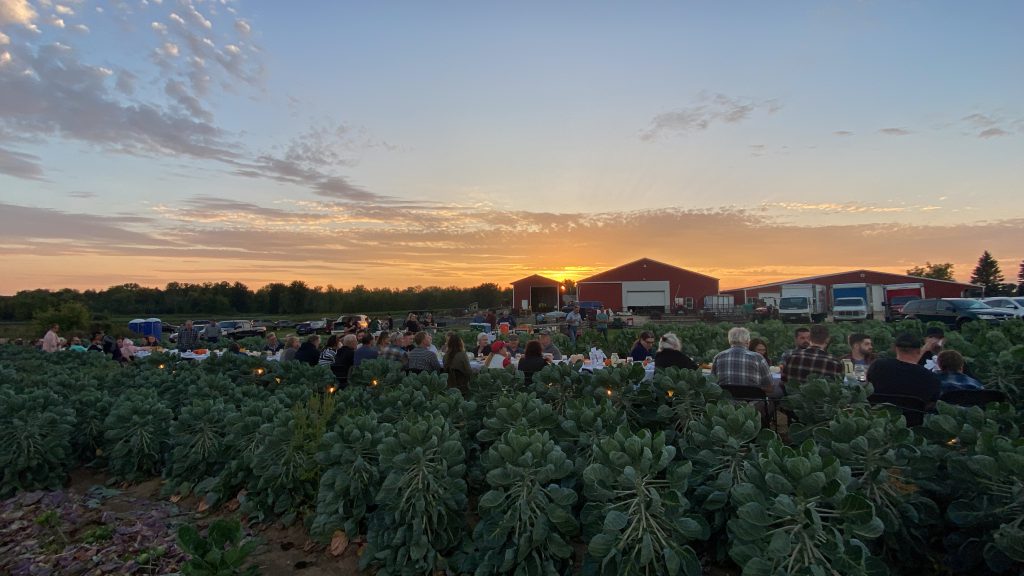 About 75 people attended the event at Witte's Vegetable Market on Highway NN.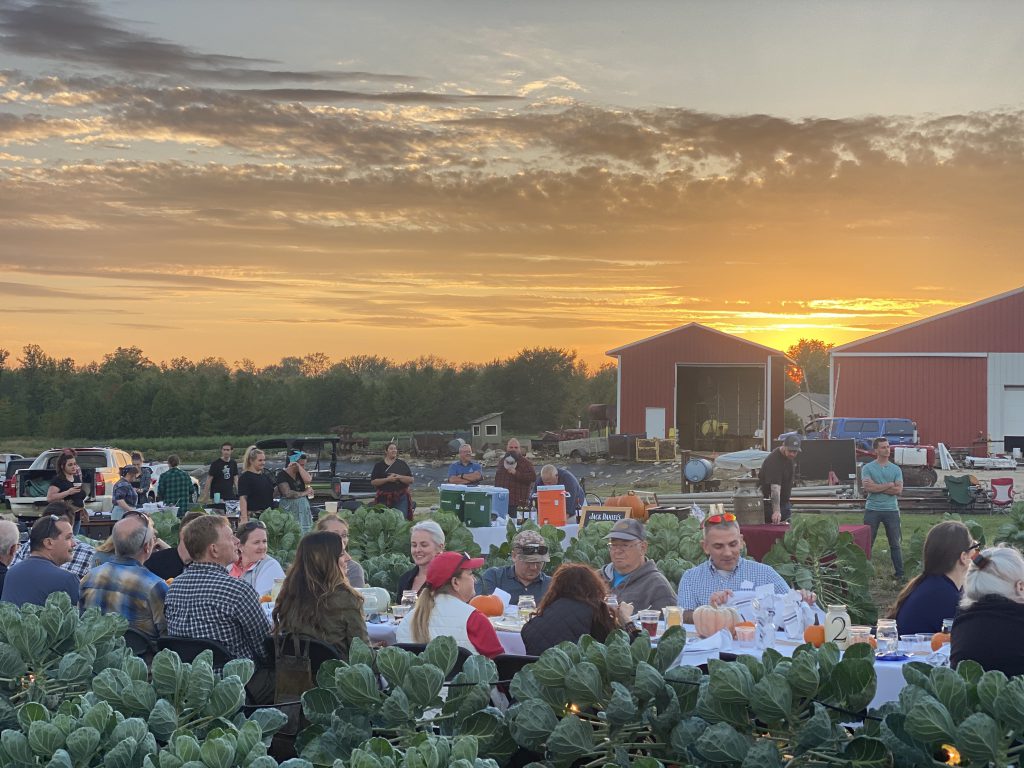 Janisse Kanzenbach and the Witte's agreed to hold the event again next year.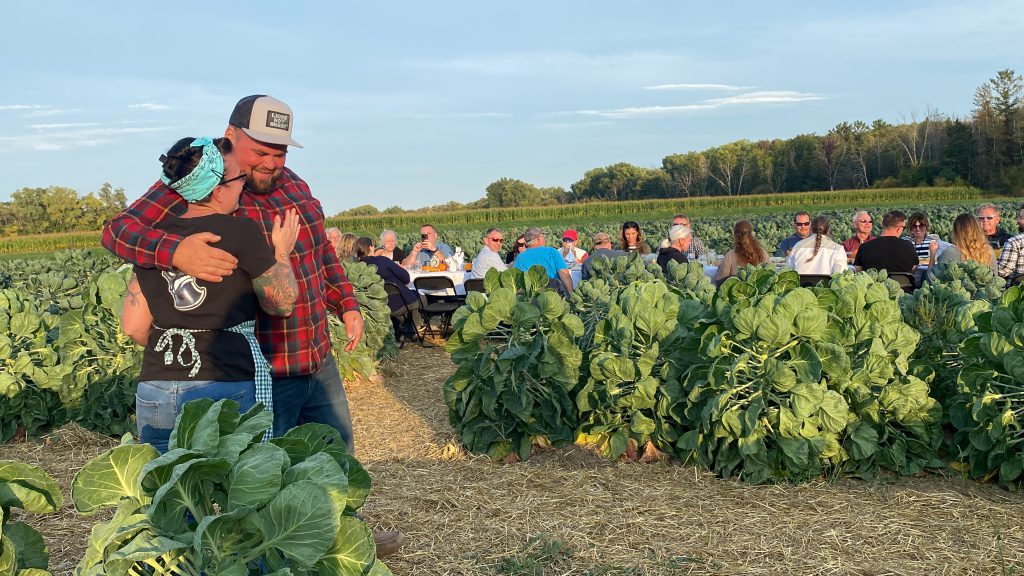 Janisse Kanzenbach gave a huge 'Thank you' to her staff for an amazing event. Also, a hat tip to musician Aly Hauser and the beer and wine vendors.