July 26, 2021 – Town of Barton, WI – The investigation into a house explosion and fire that occurred Friday night, July 23, 2021 in the Town of Barton shows no criminal activity.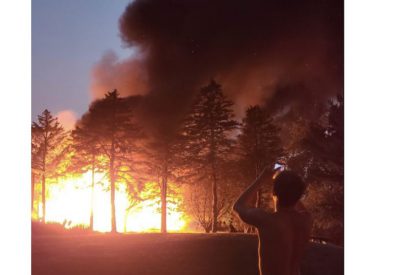 Washington County Sheriff's investigators are working alongside investigators from the West Bend Fire Department and the Wisconsin Division of Criminal Investigation Fire Marshal's Office.
The explosion at 3149 Norman Drive was reported at around 8:15 pm on Friday by neighbors. The next-door neighbor was at home at the time and heard the explosion. He immediately ran to the house and located the homeowner's 48-year-old son who was in the process of self-evacuating.
The neighbor asked where the homeowner was. The son said he thought he was with him as they were evacuating together.
Below is an interview with Jeff Dreher moments after he helped rescue the 78-year-old homeowner.
The neighbor quickly entered the burning house and located the 78-year-old homeowner who had become disoriented and was unable to find his way out. He was able to evacuate the victim and get him to the arriving medical personnel from the West Bend Fire Department, who were in the area on another assignment at the time of the 911 call.
Washington County Sheriff Martin Schulteis wants to express his respect and appreciation for the neighbor's actions on Friday night.
"This man reacted in a manner that is nothing short of heroic. After hearing the explosion, he quickly responded and identified that the elderly homeowner was missing," said Schulteis.  "Without pause, he ran into the burning house to rescue him without concern for his safety. This fire was rapidly spreading, and the window for a rescue to be possible was small. Without delay or hesitation, this man ran towards the fire to rescue the victim. Had this hero not taken immediate action, this victim would most likely not have made it out of that house. We ask that you join us in keeping these victims in your thoughts and prayers"
Both victims remain in stable but critical condition at a local burn unit. The son was visiting from California and his father resides at the Norman Drive house alone. Evidence suggests  the explosion was natural gas-related, and is not being considered a criminal matter.