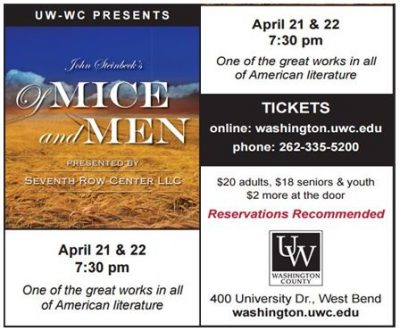 April 3, 2017 – West Bend, WI – John Steinbeck's American literary classic "Of Mice and Men" comes to life as part of the University of Wisconsin-Washington County Fine Arts Series, Friday and Saturday, April 21-22.  Set on a depression-era California grain ranch, this compelling story of friendship and isolation addresses classism, sexism, racism, and mental disability with as much relevance today as when the novella was published in 1937 and staged on Broadway later that year.
"It's a story about the American Dream, how that can mean different things to different people, and how it can ultimately prove elusive," said producer/director Paul Steinbach, who appears on stage as migrant worker George Milton. "That same social dynamic persists today as it did 80 years ago. What drew me to the literature most was Steinbeck's ability to engender empathy for multiple characters as they reconcile their dreams with reality. It's both heartwarming and tragic, and to me it is near-perfect storytelling."
Milwaukee theater veteran Nicholas Callan Haubner plays Lennie Small, George's drifter companion. "Actors wait for iconic roles — those roles that are one in a million, written for someone like you — and often they never come," Haubner said. "I'm lucky enough that this one has come to me, and I plan to leave everything I have on the stage." Marvin Bynum (Crooks), Jake Cox (Curley), Peter Gibeau (Slim), Melf Gourlie (Candy), Simon McGhee (Whit), Scott Pollnow (The Boss), Keighley Sadler (Curley's Wife) and Tom Stodola (Carlson) complete the cast.
Performances take place at 7:30 p.m. in UW-Washington County's Theatre on the Hill. Tickets are $20 for adults; $18 for seniors over 62 and youth under 18. UW-WC students are free with student ID. Tickets can be purchased online at www.washington.uwc.edu or by phone at 262-335-5208 or email: [email protected]. UW-WC is located at 400 University Drive in West Bend and the theatre is located on the second floor of the campus. Free parking is available.