West Bend, WI – Jenny Thill, Washington County Youth Hockey Association (WCYHA) Lead is pleased to announce the Kettle Moraine Ice Center will welcome Olympic champion Brianna Decker to our rink on Friday, February 26, 2021.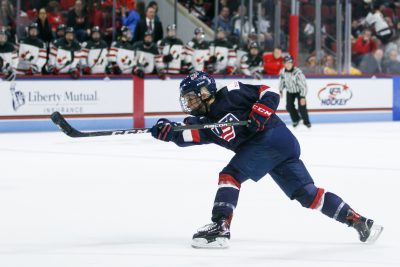 Decker is a former Wisconsin Badger women's hockey player and was part of their National Championship team. She is a two-time Olympian, having won a silver medal in women's hockey in 2014 and a gold medal in 2018. She has played professionally and was part of the 2020 NHL All Star Weekend. She continues to advocate for female access to the sport through her endowment for Wisconsin athletes.
Decker will be at the rink in conjunction with the WCYHA annual Girls Try Hockey for Free event, which runs from 5:30-6:15 p.m. on February 26. This event provides Washington County girls the opportunity to come and try hockey in a safe and fun environment and is completely free! It is perfect for girls ages 4-9.  All gear is provided and sanitized and COVID protocols are in place. Advance registration is being taken on the WCYHA website kettlemoraineicecenter.com
Decker will be signing autographs and taking pictures with the youth starting at 5:30 p.m.
Following Decker's appearance and the Girls Try Hockey event, the 10 and 12U Ice Lynx girls hockey teams will kick off competition in their home Heartbreakers tournament. It is bound to be an exciting and memorable weekend, said Thill.