Open-air design for downtown WB Theatre – there is a trendy architectural term for that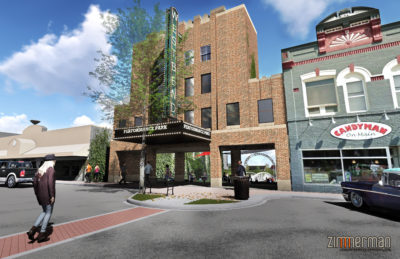 Dec. 22, 2016 – West Bend, WI – That open-air proposal for the downtown West Bend Theatre – there's actually an architectural term for that.
The controversial practice is called "facadism."
When done correctly it preserves the aesthetically pleasing portion (facade) of an historic building while creating a sustainable use for the adjacent coveted space.
John King from the San Francisco Chronicle defined facadism as "bits of old buildings preserved to soften the shock of something new."
A good example of facadism can be found in neighboring Sheboygan County.
The John Michael Kohler Arts Center preserved the city's cherished 1904 Carnagie Library facade and incorporated it into their campus creating an outdoor sculpture garden used for weddings and special events.
Hat tip Terry Becker