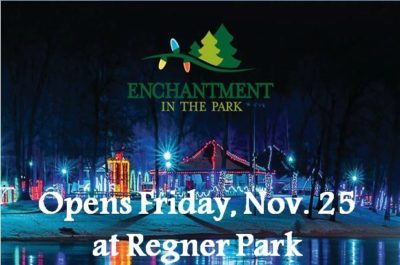 Nov. 25, 2016 – West Bend, WI – Enchantment in the Park, powered by Westbury, officially kicks off tonight at Regner Park in West Bend. Enchantment opens at 5 p.m. and features amazing light display, horse and carriage rides, and visits and photos with Santa every night.
Bring a suggested donation of a bag of canned goods or $10 per car and all goes to help fill local food pantries in Washington County. For more information click here.
Enchantment open at 5:00 pm.
Horse & Carriage Rides for $5 per person. Kids under 16 are free. Please note: this is a charge and not a donation.
Date
Time
Group/Performance
Friday, November 25
5:00 – 9:00 pm
Horse & Carriage Rides
Saturday, November 26
5:00 – 9:00 pm
Horse & Carriage Rides
6:00 pm
Stillwaters Band-plays until 9pm
7:00 pm
West Bend Rotary Drawing
Sunday, November 27
6:00 pm
Christmas Parade
Thursday, December 1
6:00 pm
St. Peter School Choir
Friday, December 2
5:00 – 9:00 pm
Horse & Carriage Rides
6:00 pm
Fair Park Elementary
Saturday, December 3
5:00 – 9:00 pm
Horse & Carriage Rides
6:30 pm
Disney Night
Sunday, December 4
4:30 pm
Husar's Diamond Dash
(Registration starts at 3:00 pm)
Thursday, December 8
6:00 pm
Jack Rindt – Accordion
Friday, December 9
5:00 – 9:00 pm
Horse & Carriage Rides
6:00 pm
Senior Citizens Musical Mem Sing
Saturday, December 10
5:00 – 9:00 pm
Horse & Carriage Rides
6:30 pm
Eric Look
Sunday, December 11
6:30 pm
Slinger High School Jazz
Friday, December 16
5:00 – 9:00 pm
Horse & Carriage Rides
6:00 pm
McLane Elementary Music
Saturday, December 17
5:00 – 9:00 pm
Horse & Carriage Rides
7:00 pm
River City Christmas Brass
Monday, December 19
6:30 pm
Jackson Jinglers
Tuesday, December 20
6:30 pm
Accompany of Kids
Wednesday, December 21
6:00 pm
Green Tree Melody Makers
Thursday, December 22
6:30 pm
Slinger Middle School
Friday, December 23
5:00 – 9:00 pm
Horse & Carriage Rides
6:30 – 8:30 pm
Opera on Tap – Milwaukee