Operation Avery's Playroom | By Crystal Zurn
April 16, 2019 – Grafton, WI –  Justin Handrow grew up in Hartford and graduated Hartford High School.  Justin, Liz, and their children now live in Grafton. The couple have three children including a daughter Avery who is suffering cancer. Below is a story by Crystal Zurn from Slinger who is hoping to help the Handrow family with a remodeling project for their children.

"It's cancer," — two words that no one ever wants to hear, and if you do, one can't imagine the painful way that it irreversibly flips your world upside down.
Those are the words the Handrow family heard on February 23, 2018 regarding their 1-1/2 year-old daughter, Avery. They later found out Avery has rhabdomyosarcoma, cancer in her face muscle. Despite several chemo and radiation treatments, in September 2018 they got more heartbreaking news that her cancer had spread to her lungs and lymph nodes.
This family has gone through an insurmountable amount of pain and heartbreak, and they need a beacon of hope in their lives. As Avery continues her treatments and care, it is imperative she stay as healthy as possible.
Her immune system is very weak, so she often must be quarantined at her home and is unable to go outside. Spending this much time indoors has become a challenge for the Handrows, as they need more room for their kids to play, run, imagine, and grow (and for all of the toys that allow them to do this!)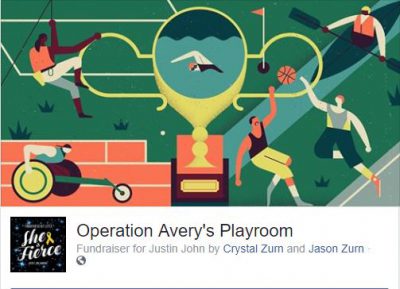 We have spoken with the family and decided we are going to help them by finishing off their basement and creating a large playroom for Avery and her siblings! We have dubbed this project Operation Avery's Playroom.
We have volunteers and contractors who are willing to donate their time and efforts towards seeing this project through, but we need your help! We are looking for the following to be donated to successfully complete this project:
– Building materials such as lumber, drywall, etc.
– Monetary gift towards Operation Avery's Playroom, which will go towards purchasing supplies, paint, decorations, and furnishings.
Our goal is to raise $7,500 for this project. Any amount, no matter how small, will go towards making a significant improvement to the lives of Avery and her family. You can make contributions and
CLICK HERE
to get to our Facebook page
If you can't give, but still want to support our cause, please share our page with your friends, family members, and coworkers. With more people aware of our cause, we will be one step closer to reaching our goal.
We would like to thank you in advance for your support and joining us in shining a bright light into others' lives.
Sincerely,
Tony Weiterman