Painting block faces during Studio Saturday at MOWA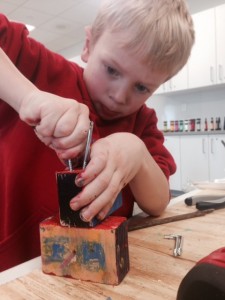 There was painting, hammering, and some serious art going on during Studio Saturday at the Museum of Wisconsin Art.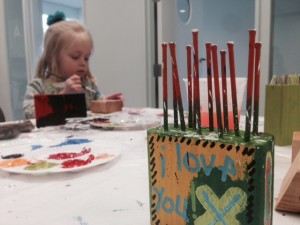 The theme this week was 'painting block faces using nails and screws' and 'make your initials with beads and buttons.'
Jennifer Koebel, 43, oversees Studio Saturdays where she said the goal is to "get creative."
"Whatever we have on the table is just an example and if you're having a hard time, walk around, look at what others are doing or go through the galleries at the museum and come back with ideas from so many of the other artists and exhibits," said Koebel.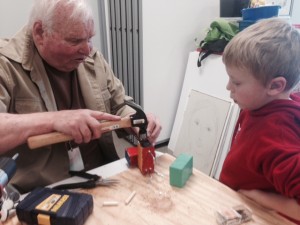 Ron Sachse has volunteered during Studio Saturdays the past three years. "I'm 81 now," said Sachse. "Eighty was my target."
Sachse was a long-time art teacher in West Bend. "I was in the elementary school and I taught for probably 50 year," he said.
A 1955 graduate of UW-Madison in art education; Sachse received his masters from Cardinal Stritch University.
"After I retired I found I missed the creativity," he said. "I did some tutoring at Decorah Elementary and then I got into teaching classes at the art museum. I like this so much better than teaching in the classroom because watching the adults is just as exciting as watching the kids.
"Our purpose is No. 1 have fun and No. 2 go wild," Sachse said.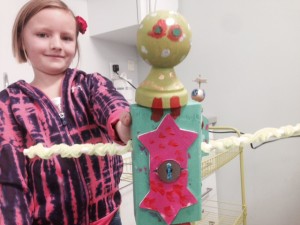 Find more details on MOWA's programs for children and families by clicking here.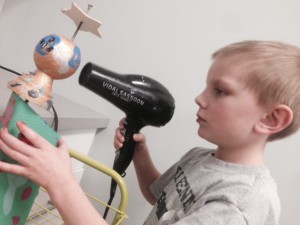 The upcoming schedule for Studio Saturdays:
February 27
Newspaper art with painting
Cigar box decoupage art
March: Painting Techniques
April: Portraits
May: Architecture
June: Landscapes