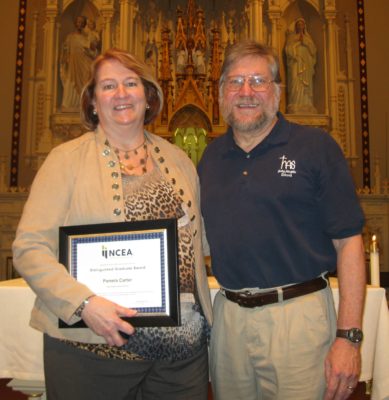 Jan. 30, 2017 – West Bend, WI – Holy Angels School in West Bend recognized Pamela Carter with the National Catholic Educational Association's Distinguished Graduate Award during this year's Catholic Schools Week celebration.
Principal Mike Sternig presented the honor and noted Carter has certainly embodied the school's mission statement by her service to others. "We belong to a Catholic community which gathers together to proclaim the gospel, serve others and praise God," Sternig said.
In the parish and school community, Carter has been "more than involved" in many important committees such as: School Development Committee, Athletic Committee, and Festival of Angels Committee.
"Her involvement has been much more than simply sitting on a committee," said Sternig. "Rather it has included active involvement as a volunteer at the annual Golf Classic, volleyball coordinator and coach, tournament director, basketball coach, intramural coordinator, festival games coordinator, festival volunteer coordinator, volunteering for raffle ticket and silent auction preparation, and more."
In the greater community, Carter is a past-officer of the West Bend Mothers of Twins group, She has been a soccer coach at the YMCA and coached volleyball.  She has been a Cub Scout leader and Girls Scout Cookie Mom. Her volunteer work helped in the creation of the Ziegler Park playground and she also provided support for the Dirty Ninja Mud Run.
Sternig commended Carter for passing on her faith not only to her own children, but also to the many children who have been in her care. "For all the joyful service and support she has given to many communities, it is with humble gratitude that I announce this year's NCEA Distinguished Graduate, from the Holy Angels Class of 1976: Pamela Carter."